The Good Gut: Taking Control of Your Weight, Your Mood, and Your Long-term Health (Hardcover)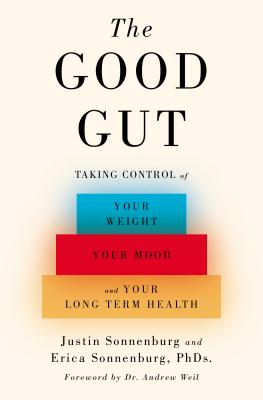 $27.95
Email or call for price
Description
---
The groundbreaking science behind the surprising source of good health

Stanford University's Justin and Erica Sonnenburg are pioneers in the most exciting and potentially transformative field in the entire realm of human health and wellness, the study of the relationship between our bodies and the trillions of organisms representing thousands of species to which our bodies play host, the microbes that we collectively call the microbiota. The microbiota interacts with our bodies in a number of powerful ways; the Sonnenburgs argue that it determines in no small part whether we're sick or healthy, fit or obese, sunny or moody. The microbiota has always been with us, and in fact has coevolved with humans, entwining its functions with ours so deeply, the Sonnenburgs show us, humans are really composite organisms having both microbial and human parts. But now, they argue, because of changes to diet, antibiotic over-use, and over-sterilization, our gut microbiota is facing a "mass extinction event," which is causing our bodies to go haywire, and may be behind the mysterious spike in some of our most troubling modern afflictions, from food allergies to autism, cancer to depression. It doesn't have to be this way.

The Good Gut offers a new plan for health that focuses on how to nourish your microbiota, including recipes and a menu plan. In this groundbreaking work, the Sonnenburgs show how we can keep our microbiota off the endangered species list and how we can strengthen the community that inhabits our gut and thereby improve our own health. The answer is unique for each of us, and it changes as you age.

In this important and timely investigation, the Sonnenburgs look at safe alternatives to antibiotics; dietary and lifestyle choices to encourage microbial health; the management of the aging microbiota; and the nourishment of your own individual microbiome.

Caring for our gut microbes may be the most important health choice we can make.
About the Author
---
JUSTIN SONNENBURG, PhD, is currently an assistant professor in the Department of Microbiology and Immunology at the Stanford University School of Medicine. In 2009, he was the recipient of an NIH Director's New Innovator Award.

ERICA SONNENBURG, PhD, is currently a senior research scientist at the Stanford University School of Medicine in the Department of Microbiology and Immunology, where she studies the role of diet on the human intestinal microbiota.
Praise For…
---
"Virtually every aspect of health and vitality is influenced by the collection of microbes living within us. The Good Gut empowers the reader with the opportunity to embrace this leading edge science in an actionable, user-friendly way." —David Perlmutter, MD and author, #1 New York Times Bestseller, Grain Brain: The Surprising Truth About Wheat, Carbs, and Sugar: Your Brain's Silent Killers

"We are facing a mass genocide threatening the lives of billions of people across the globe. It is the killing and harming of our own inner garden, our gut bacteria, by our processed diet, antibiotics, acid blockers and other gut busting drugs.  The Good Gut for the first time connects the dots between the health of our gut flora or microbiome and our health. A bad gut causes heart disease, obesity, diabetes, cancer, autoimmune disease and more, while a good gut can prevent and heal most of what ails us in the 21st century.  If you want to learn how to cultivate your own inner garden and create abundant good health, read The Good Gut!"— Mark Hyman, MD, Director, Cleveland Clinic Center for Functional Medicine, and author, #1 New York Times bestseller, The Blood Sugar Solution

"Microbes in our gut outnumber the cells in our body by more than 3 to 1.  We'd better make peace with them.  The Sonnenburgs show us how in their fascinating book, The Good Gut.  I recommend it to everyone who eats."—David S. Ludwig, MD, PhD, Professor, Harvard Medical School and author, Ending the Food Fight

"Sonnenburg are two rising stars in the field of microbiology and immunology research. Lucky for us, they are willing and able to put scientific jargon aside and offer us a fascinating, funny, and easy-to-read book about the latest human microbiome discoveries and how these discoveries might help us  tend to our inner microbes so as to optimize our overall health."—Daphne Miller, MD author of Farmacology: Total health from the Ground Up and The Jungle Effect

"In The Good Gut, Stanford researchers and authors Justin and Erica Sonnenburg explain some of the mysteries of the invisible world inside us. Thanks to their insight and research, the rest of us can now benefit from understanding how to improve our health by taking care of the microbes living within us."— Mark Liponis, MD, corporate medical director, Canyon Ranch

"The 100 trillion bacteria that make up our gut microbiota represent the next great frontier in medicine and our understanding of how to obtain and maintain health. The Good Gut is a must read for anyone who struggles with health issues, from obesity to depression, and anyone looking to truly optimize their health and well-being."—Adam Perlman, MD, executive director, Duke Integrative Medicine at Duke University