The Contest for Liberty: Military Leadership in the Continental Army, 1775–1783 (Hardcover)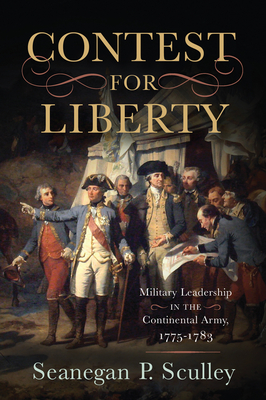 $30.00
Email or call for price
Description
---
Winner of the 2019 Army Historical Foundation Distinguished Writing Award in Institutional History
How American Colonial Ideals Shaped Command, Discipline, and Honor in the U.S. Armed Forces
In the summer of 1775, a Virginia gentleman-planter was given command of a New England army laying siege to British-occupied Boston. With his appointment, the Continental Army was born. Yet the cultural differences between those serving in the army and their new commander-in-chief led to conflicts from the very beginning that threatened to end the Revolution before it could start. The key challenge for General George Washington was establishing the standards by which the soldiers would be led by their officers. What kind of man deserved to be an officer? Under what conditions would soldiers agree to serve? And how far could the army and its leaders go to discipline soldiers who violated those enlistment conditions? As historian Seanegan P. Sculley reveals in Contest for Liberty: Military Leadership in the Continental Army, 1775–1783, these questions could not be determined by Washington alone. His junior officers and soldiers believed that they too had a part to play in determining how and to what degree their superior officers exercised military authority and how the army would operate during the war. A cultural negotiation concerning the use of and limits to military authority was worked out between the officers and soldiers of the Continental Army; although an unknown concept at the time, it is what we call leadership today. How this army was led and how the interactions between officers and soldiers from the various states of the new nation changed their understandings of the proper exercise of military authority was finally codified in General Friedrich Wilhelm von Steuben's The Regulations for the Order and Discipline of the Troops of the United States, first published in 1779. The result was a form of military leadership that recognized the autonomy of the individual soldiers, a changing concept of honor, and a new American tradition of military service.
About the Author
---
SEANEGAN P. SCULLEYearned his Ph.D. at the University of Massachusetts at Amherst and is currently an Assistant Professor of History at the United States Military Academy. He has served in the United States Army as both an enlisted soldier and an officer since 1995.
Praise For…
---
"Contest for Liberty fills a notable gap by focusing on the patriots' leadership at the lower levels. As a serving U.S. Army officer who entered the military as an enlisted man and now teaches history at West Point, Mr. Sculley is well qualified to offer insights based on his personal experience. While his book is short, it offers a stimulating and robustly argued perspective on its theme. . . . Mr. Sculley argues against exaggerating the Europeanization of the Army. For all of Washington's efforts, the author suggests that the general was obliged to compromise: A consensual style of leadership emerged, characterized as much by negotiation as by coercion. To Mr. Sculley, an appreciation of this "distinctly American" approach to military leadership is key to understanding why Washington's soldiers persisted, despite—as [Johann] Ewald witnessed at Yorktown—the woeful failure of Congress to feed, clothe and shelter them. The Continental Army ultimately prevailed, Mr. Sculley believes, because its officers cared for their men and convinced them that their cause was worth fighting for."—Wall Street Journal