Insider's Guide to Graduate Programs in Clinical and Counseling Psychology: 2008/2009 Edition (Paperback)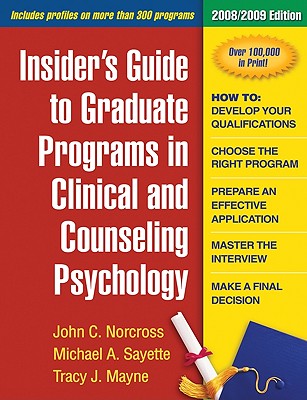 Description
---
With more than 100,000 copies in print, this bestseller is the resource students rely on to find graduate clinical and counseling psychology programs that meet their needs--and gain admission to them. The 2008/2009 edition includes:
*The most current data on more than 300 accredited programs in the United States and Canada
*Crucial information on financial assistance and government-sponsored loans
*Descriptions of each program's specializations or tracks
*Listings of acceptance and attrition rates
*Specific, helpful guidance for applicants with disabilities
The Insider's Guide provides step-by-step advice to help students complete prerequisite coursework, accumulate clinical experience, and prepare strong application materials. Special features include tips for mastering admissions interviews, sample letters and personal statements, examples of curricula vitae, an application timeline, and a worksheet to help applicants make wise final decisions.
About the Author
---
John C. Norcross, PhD, ABPP, is Professor of Psychology and Distinguished University Fellow at the University of Scranton, and coauthor of Leaving It at the Office and Authoritative Guide to Self-Help Resources in Mental Health. Michael A. Sayette, PhD, is Professor of Psychology at the University of Pittsburgh, with a secondary appointment in the Department of Psychiatry at the Western Psychiatric Institute and Clinic, University of Pittsburgh School of Medicine.  Tracy J. Mayne, PhD, conducts research in cancer-supportive therapies in Global Health Economics at Amgen, Inc. Dr. Mayne and Dr. Sayette first developed the Insider's Guide after comparing notes on their own graduate school admission process -- and brainstorming about the kind of information and guidance they wished they had had.
Praise For…
---
"I am writing to thank you for the second time for the remarkable resource your Insider's Guide has been. My girlfriend has just successfully utilized your most recent edition and has been accepted into a clinical PhD program. Great stuff!"--Jason Paris, graduate student
"There is a definite need for this book, which improves with every edition. Prospective graduate students will significantly increase their chances of gaining admission to clinical doctoral programs when they use this outstanding guide."--Arnold A. Lazarus, PhD, Distinguished Professor of Psychology, Rutgers University
"I cannot express enough gratitude to you for the Insider's Guide to Graduate Programs in Clinical and Counseling Psychology. Your book was THE most important resource that I used during my applications to PhD programs in counseling psychology. It is exceptionally written, incredibly applicable and most importantly clear, concise and pragmatic. Thank you so much for remembering how stressful and chaotic the application process can be, as well as being empathic enough to pull together a resource that I am sure has helped so many graduate students."--Kimberly Tran, doctoral student
"The authors have created a valuable guide for applicants. The wealth of practical information and insights gleaned from their research and personal experiences should help applicants make the strongest possible application to the schools of their choice. This well-written, encouraging book will be a great asset for anyone applying to clinical or counseling psychology programs."--Barry A. Hong, PhD, Washington University School of Medicine
"I love your book! This book is excellent for focusing upon specific areas of interest as well as going about the process in a systematic, logical manner. Great job!"--Helen Rowan, MA, clinician returning for her doctorate   
"Your book is simply a godsend! I found it to be instructive, informative, and a great comfort."--Emily M. Douglas, psychology undergraduate
"Students need to realize that the Insider's Guide is much more than a shopping list of statistics about programs to be picked up before sending off the first wave of applications. In fact, this is a resource that all students seriously considering careers in professional psychology will find valuable as soon as they declare their major."--Bryan D. Fantie, PhD, Director of Behavioral Neuroscience, American University