Negative Money (Paperback)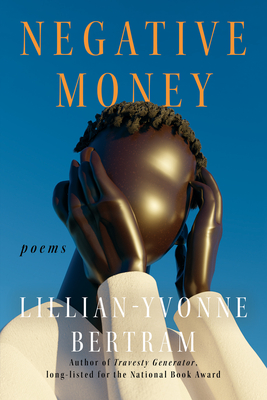 Description
---
Finalist for the New England Book Award

From a National Book Award nominated poet, this collection is about a life lived in the red, on the edges of great lack and great abundance, of financial and emotional margins

Negative Money follows a speaker continually coming of age while probing the binary thresholds of racial and gender identity, violence and safety, security and precarity, love and loneliness.

For readers of Readers Claudia Rankine, Torrey Peters, Ocean Vuong, and Jericho Brown, NBA nominated Lillian-Yvonne Bertrams's poems are innovative, conceptually thoughtful work. Through experimentation and muscular lyricism, Bertram maintains a style that observes a speaker's attempt to understand and exert multiple identities within the binary confines of race and gender.

Playing and gliding from acrostics to sonnets to maps, these compassionate, cerebral, and irreverent poems plainly recognize the larger and potentially escapable oppressive systems that dominate all of our lives by narrating the exhaustion that comes from living under constraining systems of relentless extraction, systems whose powers fracture all attempts at genuine love and intimacy.
About the Author
---
LILLIAN-YVONNE BERTRAM is a creative writer, computational poet, artist, and educator who currently directs the MFA in Creative Writing at the University of Maryland. Their poetry collections include Travesty Generator (Noemi Press, 2019), winner of the 2018 Noemi Press Poetry Prize, finalist for the National Poetry Series, and longlisted for the 2020 National Book Award; How Narrow My Escapes (Diagram/New Michigan 2019), Personal Science (Tupelo Press, 2017); a slice from the cake made of air (Red Hen Press 2016); and But a Storm is Blowing From Paradise (Red Hen Press, 2012). Bertram holds a PhD in Literature & Creative Writing from the creative writing program at the University of Utah, among degrees from Carnegie Mellon University and the University of Illinois at Urbana-Champaign. Their poetry, prose, and essays have been published in various journals, and they are the recipient of numerous honors. Their fifth book, Negative Money, was published in June 2023.
Praise For…
---
Finalist for the New England Book Award

"These poems incisively render the ugly contours of the worst political and cultural parts of America and the world, but also hold hope and imagination for a future not bound by them." —Sarah Neilson, The Seattle Times

"Lillian-Yvonne Bertram's sixth collection of poetry, Negative Money, shows a poet with technical skill who engages in playfulness with form. This excellence of craft delivers some seriously on-point poems in the book that explore money, the whiteness of capitalism, and the day-to-day living in a place that is conditional on exploitation and extraction . . . A collection that certainly feels timely while taking the reader to small or internal spaces or zooming out in scope, offering something that is both profound and reflective." —Sarah Neilson, Shondaland

"Like the economic system it so searingly indicts, Lillian-Yvonne Bertram's fifth full-length collection, Negative Money, structures itself around contradiction—between the creative and catastrophic energies of American capitalism, between the promise and peril of courting such energies, between one's past and present selves, in all their inherent inconsistency . . . Unflinching in its intersectional critique, agile in its thinking, and possessed throughout of a formal range that never feels gimmicky, Negative Money straddles that existential contradiction of relying—for some mean measure of sustenance—on the very systems which continuously imperil one." —Preposition

"Bertram blends irreverence, honesty, and formal play in poems that bear witness to the precarity of living on the margins of society . . . This profound book will stir readers into necessary reflection." —Publishers Weekly

"Lillian-Yvonne Bertram once again reveals how they are light years embedded inside the lyric, a futurity grounded in a currency of creation, resistance, and voicing of multiplicity. In short, they are their own blockchain of language: 'I have visions of honey / in my eyes.' Negative Money exhibits a disruptive poetics that hacks hidden chambers of viewing, of how we connect and understand ourselves and others." –-Major Jackson, author of The Absurd Man: Poems

"Lillian-Yvonne Bertram has written one stunner after another, experimenting with the page like a word alchemist. Their brilliant new collection reminds me of a poetic rumble between Terrance Hayes and Harryette Mullen. If you haven't read them yet, Negative Money is your opportunity to fix that, and, as Jimi Hendrix said, pick up on it." —Adrian Matejka, author of Somebody Else Sold the World

"Negative Money engages a spectrum of interrogation into the poetic form's intentional discourses to dismantle power. These beautifully crafted poems look at the way power relations are set up in whiteness, academia, and in gender, articulating how the body can be consumed, exploited, hurt, and adjudicated; they build an emphatic affective world that both cries out and governs its necessary reckoning." —Prageeta Sharma, author of Grief Sequence

"This book completely blew me away. It is brilliant, funny, wounded, intimate, strong, vulnerable, electric, and completely original. I want to hand this book to everyone I know and say: this is what poetry can do." —Matthew Zapruder, author of Father's Day and Story of a Poem