Death by Landscape (Paperback)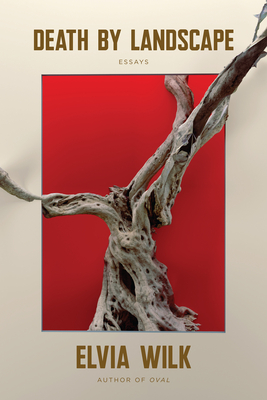 $16.95

Coming Soon - Available for Pre-Order Now
Description
---
From the author of Oval, a collection of "fan nonfiction" that proposes new possibilities and genealogies for weird fiction in the age of extinction.

What kinds of stories will help us rethink the human-centric perspective of Earth? This collection of "fan nonfiction" offers a syllabus for feminist sci-fi, proposing new possibilities and genealogies in the age of extinction.

Elvia Wilk investigates creative works across time and genre, breaking down the binary between dystopia and utopia, real and imagined, self and world. She makes connections between works by such wide-ranging writers as Mark Fisher, Karen Russell, Han Kang, Doris Lessing, Jenny Hval, Anne Carson, Octavia Butler, Michelle Tea, Helen Phillips, Jonathan Lethem, Kathe Koja, Jeff and Ann VanderMeer, and Hildegard von Bingen.

What happens when research becomes fandom or even obsession, when the observer breaks through the glass? When you realize you are in love with a movie you are reviewing; when you are suddenly playing a character in a LARP you thought you were observing from afar; when a medieval nun suddenly feels like an intimate friend? Through the eye of the fan, this collection studies literal and literary world-building projects—solarpunk futures, vampire role-plays, environments devoid of humans—connecting the micro to the macro and revealing how our relationships to the natural world and to one another.
About the Author
---
Elvia Wilk is a writer living in New York. Her work has appeared in publications like Frieze, Artforum, Bookforum, Granta, The Atlantic, n+1, The White Review, BOMB, Mousse, Flash Art, and Art Agenda. She is currently a contributing editor at e-flux Journal. She is the recipient of a 2019 Andy Warhol Arts Writers Grant and a 2020 fellowship at the Berggruen Institute. Her first novel, Oval, was published by Soft Skull in 2019.
Praise For…
---
A AnOther Magazine Most Anticipated Book

"Erotics of compost, vampires, medieval nuns, and solarpunk. Wilk's 'fan nonfiction,' examines the works of Anne Carson, Octavia Butler, Michelle Tea, and more to probe the lines and shapes of 'weird fiction' in the face of extinction and all its urgency and anxieties. At the heart of it are questions of how to tell stories that center the Earth as opposed to humans, that help us grapple with the end of the world, and that help us see and be with the dark of it all." —Snigdha Koirala, Lit Hub, One of the Most Anticipated Books of the Year

"With evocative clarity and intuitive rigor, Elvia Wilk's Death by Landscape guides us through a troubled terrain criss-crossed by that most uncanny of entities, 'nature.' This is writing that uniquely extends the tradition of speculative nonfiction, delineating a new constellation of culture and climate that ultimately points to the nebulous horizon of human being itself." —Eugene Thacker, author of In the Dust of This Planet and Infinite Resignation

"Elvia Wilk has written a guidebook and a philosophy for living in a precarious world, in essays that are searching and funny, self-assured and unguarded all at once. With each chapter Wilk directs her telescopic focus on plants and rot, mysticism and black holes, female embodiment and trauma, weaving together seemingly disparate topics with an intelligence that recalls the best of Mark Fisher and Wayne Koestenbaum. Reading Death by Landscape, I feel terrified and exalted, expanded, in awe." —Madeleine Watts, author of The Inland Sea

"Elvia Wilk's learned and bracing essays distribute the mind out beyond the stubborn habits and enclosures of our 'humanities'—out past hack plots or boundaries assigned to gender or species—where it can expand into subsoil or outer space or corpuscle in narratives weird enough to reflect another human/non-human social life." —Keller Easterling, author of Medium Design and Extrastatecraft

"Elvia Wilk reports on psychic borders, the lines drawn between earth and earthling, plant and steward, healthy and sick. She finds false binaries we hadn't even thought to count and asks the human to find its humanity, gently but without wavering. Brilliant and swift, as she always is." —Sasha Frere-Jones, musician and writer

"Wilk reads the world like an insect reads a garden; her approach is sensory and kaleidoscopic, buzzing beyond manicured surfaces to get at the fertile, loamy rot beneath everything from black holes and science fiction dystopias to martyred saints and larpers. Beautifully brainy, bug-eyed, and weird." —Claire Evans, author of Broad Band