12 Smart Things to Do When the Booze and Drugs Are Gone: Choosing Emotional Sobriety through Self-Awareness and Right Action (Berger 12) (Paperback)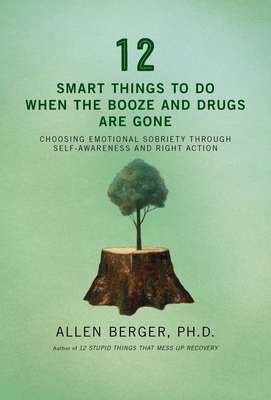 $16.95

Usually Ships in 1-5 Days
Description
---
In times of crisis like the coronavirus pandemic has caused, we need all the recovery tools we can get. Smart sobriety means working on all the stuff our substances were covering up.Learn the attitudes and behaviors that are key to attaining and sustaining emotional sobriety and developing a deeper trust in the process of life.
Dr. Allen Berger draws on the teachings of Bill W. and psychotherapy pioneers to offer us twelve hallmarks of emotional sobriety. These "right actions" help us develop the confidence to be accountable for our behavior, to practice asking for what we want and need, and to cultivate a deeper trust in the process of life. Dr. Berger's list of smart things includes
understanding who you are and what's important to you
learning not to take others' reactions personally
trusting your inner compass
Through practicing these twelve things, we find release from what Bill W. described as an "absolute dependence on people or circumstances. Freed from the emotional immaturity that fueled our addictive personality and hurt ourselves and others, we can develop the tools to find strength from within and continue our successful journey of recovery.
About the Author
---
Allen Berger, PhD, is a leading expert in the science of recovery from addiction. Sober since 1971, Dr. Berger was part of a pioneering recovery program for marines returning from Vietnam with alcohol and other drug addictions—first as a participant, then as a counselor. Since then, he has become a thought leader in the field, working in clinical settings and private practice. In demand as a speaker, workshop presenter, and interviewee, Dr. Berger is well-known in recovery circles, among those in recovery as well as therapists and clinicians around the world. He has lectured and written extensively on the process of recovery, emotional sobriety, and the therapeutic value of the Twelve Steps.