The Grammar of Fantasy: An Introduction to the Art of Inventing Stories (Hardcover)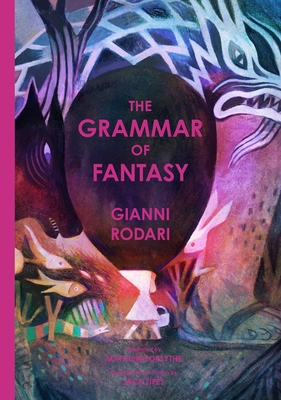 $27.95

Coming Soon - Available for Pre-Order Now
Description
---
From the father of modern
Italian children's literature, a guide to fairytales and folk tales and their
great advantages in teaching creative storytelling. A groundbreaking pedagogical work that is also a
handbook for writers of all ages and kinds, The Grammar of
Fantasy gives each of us a playful, practical path to finding our own
voice through the power of storytelling. Full of ideas, glosses on fairytales,
stories, and wide-ranging activities, including the fantastic binomial, this
book changed how creative arts were taught in Italian schools. Gianni Rodari is widely regarded as the father
of modern Italian children's literature, but he is also remembered for his
visionary pedagogy, and it is these two fields he combines in this revolutionary
essay collection. Translated into English by acclaimed children's historian
Jack Zipes and illustrated for the first time ever by Matthew Forsythe, this
edition of The Grammar of Fantasy is one to live with and
return to for its humor, intelligence, and truly deep understanding of
children. As translator and esteemed fairytale scholar
Jack Zipes puts it, "Rodari grasped children's need to play with life's rules
by using the grammar of their own imaginations. They must be encouraged to
question, challenge, destroy, mock, eliminate, generate, and reproduce their
own language and meanings through stories that will enable them to narrate
their own lives." "I
hope this small book," writes Rodari, "can be useful for all those people who
believe it is necessary for the imagination to have a place in education; for
all those who trust in the creativity of children; and for all those who know
the liberating value of the word.
About the Author
---
Widely considered the father of modern Italianchildren's literature, Gianni Rodari (1920-1980) grew up inNorthern Italy and wrote hundreds of stories, poems, and songs for children. In1960, he collaborated with the Education Cooperation Movement to developexercises to encourage children's creative and critical thinking abilities. Therecipient of the prestigious Andersen Prize in recognition of his contributionto children's literature, he was also an educator of paramount importance inItaly and an activist who understood the liberating power of the imagination. Jack Zipes is a renowned children's historian and folklorist who has written, translated, and edited dozens of books on fairytales. He is a professor at theUniversity of Minnesota. Matthew Forsythe lives in Montreal where he draws and paints for picture books, comics, andanimations. His picture book Pokkoand the Drum was a PublishersWeekly and NPR Book of the Year and won a Boston Globe / Horn Book Honor and Charlotte Zolotow Honor.