The Complete Idiot's Guide to Staging Your Home to Sell (Paperback)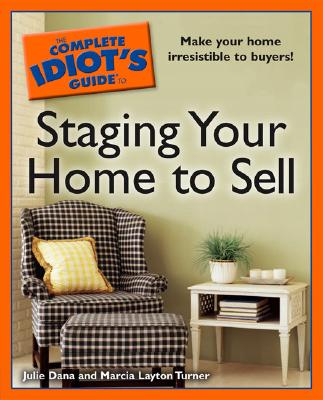 $18.95
Email or call for price
Description
---
It's show time!
Home staging transforms rooms from that everyday lived-in look to ready-to-be sold for top dollar. This step-by-step guide offers the tactics used by home stagers--from de-cluttering and cleaning up to arranging and remodeling--that will often yield a quicker sale and higher selling price.
--Decorating tips to make a house appeal to the widest range of buyers
--Cost-effective techniques to highlight the home's selling points, whether it's the floor plan, the high ceilings, or a newly renovated bathroom
--Suggestions on how to downplay or eliminate features that might be considered negatives-- such as smaller rooms, minimal storage space, or ghastly wall colors
About the Author
---
Julie Dana is a professional interior re-designer and an accredited staging professional who owns her own decorating business, The Home Stylist. She has authored several articles on thrifty decorating and home staging tips and contributed her expertise and photos of her clients homes for "The Complete Idiot s Guide to Selling Your Own Home."

Marcia Layton Turner is a best-selling, award-winning author who co-authored "The Complete Idiot s Guide to Selling Your Own Home" and has written articles on home decorating and design for "Woman s Day, Business Week, Realtor, Black Enterprise," and many others.