Cactus of the Southwest Playing Cards (Nature's Wild Cards) (Other)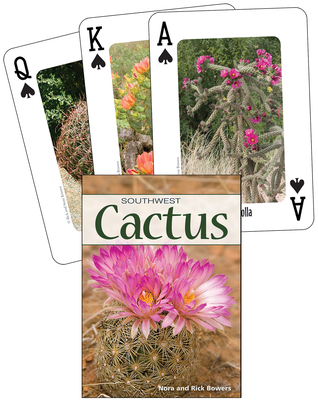 $5.95

Usually Ships in 1-5 Days
Description
---
Play Cards and Learn to Identify Cacti in the Southwestern United States
Anyone who enjoys nature, plants, and the great outdoors will love these cards for playing your favorite games or to use as flash cards. Inspired by Nora and Rick Bowers' popular Cactus of the Southwest quick guide, this gorgeous deck of playing cards features professional photographs of 54 of the most beautiful succulents in the Southwestern states of Arizona, California, Colorado, Nevada, New Mexico, Texas, and Utah. Each card depicts a photograph of such cacti as the Saguaro, Organ Pipe, Living Rock, and more--so you can begin to learn what 54 different succulents look like.
Card Features
52 of the most notable cacti
2 non-cactus jokers Beautiful photograph on every card Ideal for card games or as flash cards
Play games like blackjack, poker, rummy, and solitaire while learning more about cacti. Get Cactus of the Southwest Playing Cards for yourself, and you can also give this deck of cards as a fun and thoughtful gift.
About the Author
---
Nora Mays Bowers is a writer and photographer. A member of the North American Nature Photography Association, Nora's credits include Birder's World Magazine, as well as many books and calendars. She is coauthor of field guides for several states. Rick Bowers is a photographer, naturalist and writer. He has been photographing nature for more than 35 years. Rick's photo credits span the gamut, from National Geographic to local publications. He is coauthor of field guides for several states.