The Wise Heart: A Guide to the Universal Teachings of Buddhist Psychology (CD-Audio)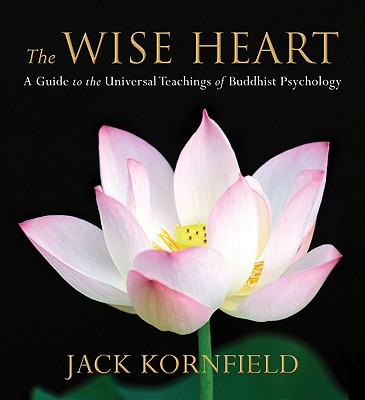 for information about purchasing this book, please contact orders@bookpassage.com
Description
---
You have within you an unlimited capacity for extraordinary love, for joy, for communion with life, and for unshakable freedom—and here is how to awaken it.

On The Wise Heart, celebrated author and psychologist Jack Kornfield offers an accessible, comprehensive, and illuminating guide to the universal teachings of Buddhist psychology. He shows you how to use powerful Buddhist insights and practices to go beyond the trap of "self-improvement"—and find in your own life the path to unconditional fulfillment and happiness discovered by the Buddha.

In the moving style of Kornfield's previous bestsellers, The Wise Heart invites you to discover:

A life of awakened love and compassion in action
• The mystery of consciousness and the undying spirit
• Buddhist personality types and the methods for transcending the illusion of self
• "Behaviorism with heart"—Buddhist cognitive training
• Interdependence and why it is essential to your personal well-being
• How Western and Buddhist psychology complement each other
At the heart of Buddhist psychology lies a vision of radiant human dignity, the secret beauty we all share: our Buddha nature. "Seeing with the eyes of love," explains Jack Kornfield, "reveals this beauty everywhere around us." Join this trusted voice to experience the transformational power of Buddhism's perennial strategies for enlightened living.
About the Author
---
Jack Kornfield, PhD, trained as a Buddhist monk in Thailand, Burma, and India and has been teaching meditation internationally since 1974. He is one of the key teachers to introduce mindfulness practices to the West. He co-founded the Insight Meditation Society in Barre, Massachusetts and founded the Spirit Rock Center in Woodacre California. He holds a PhD in clinical psychology and has taught in centers and universities worldwide. Jack has led International Buddhist Teacher meetings with the Dalai Lama, worked with many of the great teachers of our time, and is a father and activist. He is co-creator of the Awareness Training Institute and has written more than a dozen books, including Meditation for Beginners; A Path With Heart; After the Ecstasy, the Laundry; and more.