Race and Reality: What Everyone Should Know about Our Biological Diversity (Paperback)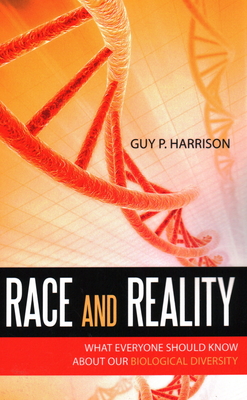 $20.00

Usually Ships in 1-5 Days
Description
---
The concept of race has had a powerful impact on history and continues to shape the world today in profound ways. Most people derive their attitudes about race from their family, culture, and education. Very few, however, are aware that there are vast differences between the popular notions of race and the scientific view of human diversity. Yet even among scientists, who understand the current evidence, there is great controversy regarding the definition of the term race or even the usefulness of thinking in terms of race at all.

Drawing on research from diverse sources and interviews with key scientists, award-winning journalist Guy P. Harrison surveys the current state of a volatile, important, and confusing subject. Harrison's thorough approach explores all sides of the issue, including such questions as these:

• If analysis of the human genome reveals that all human beings are 99.9% alike, how meaningful are racial differences?
• Is the concept of race merely a cultural invention?
• If race distinctions are at least partially based in biological reality, how do we decide the number of races? Are there just three or maybe 3 million?
• What do studies of racial attitudes reveal? Are we all, in one way or another, racists?
• How does race correlate with environmental and geographical differences?
• Are race-based drugs a good idea?
• How does race influence intelligence, athletic ability, and love interests?

Harrison delves into these and many more intriguing, controversial, and important questions in this enlightening book. After reading Race and Reality, you will never think about race in the same way again.
About the Author
---
GUY P. HARRISON (San Diego, CA) is an award-winning journalist and the author of Think, 50 Simple Questions for Every Christian, 50 Popular Beliefs That People Think Are True, 50 Reasons People Give for Believing in a God, and Race and Reality: What Everyone Should Know about Our Biological Diversity. Find him on online at www.guypharrison.com, www.facebook.com/guypharrisonauthor, and on Twitter @Harrisonauthor.
Praise For…
---
"For decades, social and biological scientists have amassed evidence demonstrating that the human species has no races, and that differences between groups called 'races' are not biologically based. Race and Reality by Guy P. Harrison makes this knowledge accessible, and knocks the props out from under 'scientific' arguments that have been used to justify racism."
 
-Jefferson M. Fish, Professor Emeritus of Psychology, St. John's University, New York

 
"In the beginning of this exceptional book, Harrison laments that he 'should never have made it through 12 years of schooling before entering a university without ever hearing the important news that most anthropologists reject the concept of biological races.'  Then in a clear, concise, and very readable manner, Harrison explains why the scientists who study this subject have come to the conclusion that biological races do not exist.  He goes on to clarify the many misconceptions surrounding race and athletic ability, racialized medicine, race and IQ, and interracial love, marriage, and parenthood.  This is a very important, profound, enjoyable and enlightening book.  It should go a long way in helping disprove man's most dangerous myth. 
 
--Robert W. Sussman, Professor of Anthropology, Washington University.  Editor of Yearbook of Physical Anthropology and Editor Emeritus of American Anthropologist

 
"Harrison challenges us to scrutinize our views about the reality of race and its social consequences, marshalling impressive data and cogent arguments to support his case against the validity of biological race categories. All there is, and all there has ever been, he says, is an arbitrary, cultural division of human beings into different races, based on the most superficial criteria. This is a true work of enlightenment, one man's grass-roots effort to raise our collective consciousness to the absurdity of belief in the notion of race, and to raise awareness of the fundamental unity of humankind."
 
-- George Williamson, PhD; Department of Philosophy, University of Saskatchewan

 
"Guy P. Harrison's comprehensive and engaging book should be required reading for anyone who has thought about the benighted issue of "race."  It will clear the cobwebs from your head."
 
--Steve Olson, author of Mapping Human History: Discovering the Past Through Our Genes