Don't Believe Everything You Think: The 6 Basic Mistakes We Make in Thinking (Paperback)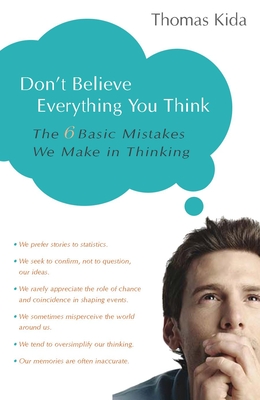 $19.99

Usually Ships in 1-5 Days
Description
---
Do you believe that you can consistently beat the stock market if you put in the effort? —that some people have extrasensory perception? —that crime and drug abuse in America are on the rise? Many people hold one or more of these beliefs although research shows that they are not true. And it's no wonder since advertising and some among the media promote these and many more questionable notions.

Although our creative problem-solving capacity is what has made humans the successful species we are, our brains are prone to certain kinds of errors that only careful critical thinking can correct. This enlightening book discusses how to recognize faulty thinking and develop the necessary skills to become a more effective problem solver.

Author Thomas Kida identifies "the six-pack of problems" that leads many of us unconsciously to accept false ideas:

·         We prefer stories to statistics.
·         We seek to confirm, not to question, our ideas.
·         We rarely appreciate the role of chance and coincidence in shaping events.
·         We sometimes misperceive the world around us.
·         We tend to oversimplify our thinking.
·         Our memories are often inaccurate.
 
Kida vividly illustrates these tendencies with numerous examples that demonstrate how easily we can be fooled into believing something that isn't true. In a complex society where success—in all facets of life—often requires the ability to evaluate the validity of many conflicting claims, the critical-thinking skills examined in this informative and engaging book will prove invaluable.
About the Author
---
Thomas Kida is a professor in the Isenberg School of Management at the University of Massachusetts at Amherst and the author of many articles on decision-making.
Praise For…
---
Listed as a Critical Thinking Classic in Skeptic magazine

"Don't Believe Everything You Think is essential reading for anyone interested in the psychology of belief and pseudoscientific thinking. It also provides one of the best arguments around for the importance of science literacy..." -- Skeptic


"This is an informative, interesting, and entertaining contribution ...[Kida] goes beyond simply describing our false beliefs to describing the ways in which we acquire them. This book is a valuable resource in the ongoing, difficult process of developing critical thinking." -- Skeptical Inquirer


"Even the most rational-minded readers may be surprised by how many errors in thinking they make without even noticing. Those looking to sharpen their critical thinking and decision-making skills will appreciate this eye-opening book." -- Kirkus Reports


"Don't Believe Everything You Think is a treat. Thomas Kida brings the science of psychology to the public, explaining how we often believe things because we want to, even when they are not true...Even if you haven't worried about the minefields of thinking, you'll want to read this book."

-- Elizabeth Loftus, Distinguished Professor at the University of California, Irvine and former President of the Association for Psychological Science


"How can we tell the difference between what is true and false? The answer is science and critical thinking, a process that Thomas Kida, in this exceptionally readable and delightfully informative book, explicates with clarity. His '6 basic mistakes we make in thinking' should be printed on a laminated wallet-sized card and examined every morning before we go out into the world."

-- Michael Shermer, publisher of Skeptic magazine, columnist for Scientific American, and author of Why People Believe Weird Things