Treatise of Man (Great Minds) (Paperback)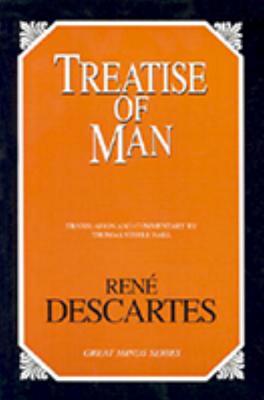 $17.99
Email or call for price
Description
---
Besides his more famous works of philosophy - Discourse on Method, Meditations on First Philosophy, and Principles of Philosophy - Descartes devoted a great deal of time and thought to the study of physiology and anatomy. An account of his activities in 1629 reports that he visited butcher shops on an almost daily basis to study specific animal organs, and he practiced dissection and even vivisection to explore the workings of major organ systems. In the 1630s, he assisted in the dissection of human cadavers - all to satisfy his intense curiosity about how bodies, animal and human, work. The fruits of this research can be found in his Treatise of Man, a work that he decided not to publish for fear of suffering the same fate as Galileo. Consequently, this fascinating treatise did not appear until twelve years after his death.
Among its many intriguing features are his detailed descriptions of the nervous system and its interactions with the muscles to create movement in response to stimulus. Though we now know that many of these details are wrong, Descartes' understanding that much of the body functions as a machine was a stroke of genius. He is the first to describe the reflex arc, anticipating Pavlov and the behaviorists by almost 300 years. The idea of the body as a kind of animal machine that functions according to physical laws was an immense advance over the previous scholastic notions based on Aristotle, which merely begged the question of how the various organs of the body work by stating that it is in their nature to perform their specific functions.
This is a landmark work that students of history, medicine, biology, and the history of science will find richly rewarding.
About the Author
---
RENE DESCARTES was born into a family of some means in the small French town of La Haye on March 31, 1596. With the death of his mother when Descartes was barely one year old, he was raised by grandparents until the age of ten when he entered the Jesuit school at La Fleche. At eighteen, Descartes enrolled in the University of Poitiers, where he earned a degree in law. Not long thereafter, while Descartes was serving in the military in the Netherlands he became acquainted with a mathematician and physicist by the name of Isaac Beeckman, who sparked his intellectual interest. A family legacy permitted Descartes to pursue these interests in relative comfort.

From 1619 to 1628, Descartes lived in Paris, but spent a good bit of time traveling throughout Europe. It was during this time that he focused his attention on formulating a rational method that could free scientific think­ing and philosophical discourse from the rampant skepticism that threatened to drown discussion of important metaphysical and epistemological questions in a sea of uncertainty. Descartes developed a method that he believed could serve the needs of science and philosophy equally well. His efforts to realize this goal have earned him the title of the father of modern philosophy.

In 1628, his travels ended, Descartes settled in the Netherlands, where he remained for the next twenty years. The last few months of his life were spent in Sweden, where he ventured in 1649 at the request of Queen Christina to instruct her in philosophy and to assist in the development of an institute for the advancement of science. While in Stockholm, Descartes came to the aid of the French ambassador, a friend who was suffering from pneumonia. Not long thereafter, Descartes contracted the disease and died on February 11, 1650.

Rene Descartes's works include: The World (1633), Essais (1637), Discourse on Method (1637), Meditations Concerning Primary Philosophy (1644), Treatise on the Passions (1648), and Rules for the Direction of the Mind (published posthumously in 1701).