Greasing the Pinata (Paperback)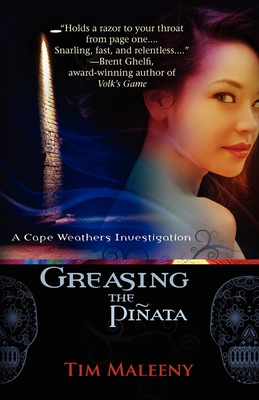 Description
---
A former U.S. Senator vanishes days after his son goes missing. When theyare both found dead on a golf course, body parts missing, in Mexico, the Senatoras estranged daughter Rebecca resolves to discover what happened.
Private investigator Cape Weathers doesnat really want the case. He canat stand politicians and doesnat know the terrain. But when it looks like the daughter may become the next victim, Cape crosses the border looking for answers.
Cape asks his deadly companion Sally, trained by the Hong Kong Triads, to watch his back as he stumbles onto a conspiracy that leads from corporate boardrooms in San Francisco to strongholds in Mexico. Together they confront a killer determined to bury the past along with anyone trying to dig it up.
Miles away from home and nowhere near finding the answers, Cape manages to get kidnapped, steal from the mob, piss off the DEA, alienate the local police, confound a computer genius, and somehow lose the client heas been protecting all along.
Greasing the PiAata is a novel about family, politics, and the devastating effects of tequila on a private detectiveas investigative abilities. It is the third novel in the Cape Weathers series, and the first to be published in hardcover by Poisoned Pen Press.
About the Author
---
Tim Maleeny is a San Francisco-based writer whose short stories appear in DEATH DO US PART, an anthology from Mystery Writers of America edited by Harlan Coben, and also Alfred Hitchcock's Mystery Magazine.
Praise For…
---
Maleeny smoothly mixes wry humor and a serious plot without sacrificing either in his third Cape Weathers mystery (after 2007's Beating the
Babushka). When Jim Dobbins, a recently retired California state senator, and his drug-addict son, Danny, disappear in Mexico, Dobbins's estranged daughter hires San Francisco reporter-turned-PI Weathers to find them. Weathers journeys south of the border only to learn that the mutilated bodies of father and son have surfaced in a Puerto Vallarte
golf course's alligator-infested pond. Aided by his Triad-trained associate, Sally Mei, Weathers pursues a case that reaches from a Mexican drug cartel to the San Francisco mob as well as the city's
boardrooms. An appealing hero, well-crafted villains, snappy dialogue and an energetic plot show that Maleeny, while not quite in the same
league as Robert Crais or Laura Lippman, is a definite contender in the private detective subgenre. -- Publishers Weekly