Greasing the Piñata (Cape Weathers Mysteries) (Paperback)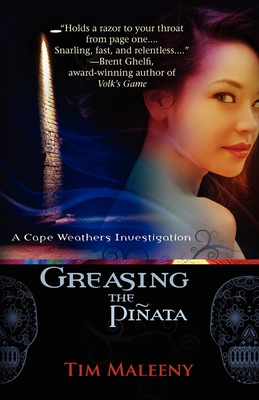 Description
---
"Definitely not for the faint of heart but just right for readers who like a gritty crime novel with a labyrinth of plot twists." —Library Journal
A former U.S. Senator vanishes days after his son goes missing. When they're both found dead on a golf course in Mexico, body parts missing, the Senator's estranged daughter Rachel resolves to discover what happened.
Private investigator Cape Weathers doesn't really want the case. He can't stand politicians and doesn't know the terrain. But when it looks like the daughter may become the next victim, Cape crosses the border looking for answers.
Cape asks his deadly companion Sally, trained by the Hong Kong Triads, to watch his back as he stumbles onto a conspiracy that leads from corporate boardrooms in San Francisco to drug cartel strongholds in Mexico. Together they confront a killer determined to bury the past as well as anyone trying to dig it up. Miles away from home and nowhere near the answers, Cape manages to get kidnapped, steal from the mob, piss off the DEA, alienate the local police, confound a computer genius, and somehow lose the client he's been protecting all along.
About the Author
---
TIM MALEENY is the bestselling author of the award-winning Cape Weathers mysteries and the comedic thriller JUMP, which The Boston Globe called "hilarious" and Publishers Weekly described as "a perfectly blended cocktail of escapism." His short fiction appears in several major anthologies and has won the prestigious Macavity Award for best story of the year. A former resident of San Francisco, Tim currently lives and writes at an undisclosed location in New York City, where he is working on his next novel, a screenplay, and a book for young readers.
You can contact Tim or find out more about his writing at: timmaleeny.com
Praise For…
---
"Maleeny is the kind of writer that makes you want to jump in the passenger seat and go for the ride—okay, maybe with eyes jammed shut and your hands gripping the arm rest—but then you want to go again." — Don Winslow, New York Times bestselling author

"Tim Maleeny nails it with this new installment from Cape Weathers. It's an intriguing murder mystery crossed with a fast-paced political thriller. The whole thing is tied together with a witty protagonist and a finely tuned sense of humor. In Greasing the Piñata, just as in Mexico, anything can happen, and most of it does." — Bill Fitzhugh, award-winning author of Pest Control

"Maleeny smoothly mixes wry humor and a serious plot without sacrificing either in his third Cape Weathers mystery...an appealing hero, well-crafted villains, snappy dialogue and an energetic plot." — Publishers Weekly

"A cracking good mystery definitely not for the faint of heart but just right for readers who like a gritty crime novel with a labyrinth of plot twists." — Library Journal

"The Cape Weathers novels are smart, snappily written, energetic mysteries starring an engaging hero." — Booklist