Valley of Dry Bones (Medieval Mysteries #7) (Hardcover)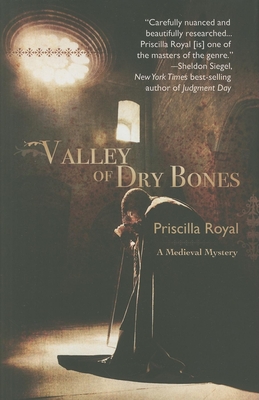 for information about purchasing this book, please contact orders@bookpassage.com
Other Books in Series
This is book number 7 in the Medieval Mysteries series.
Description
---
In the late summer of 1274, King Edward has finally been anointed England's ruler, and his queen contemplates a pilgrimage in gratitude for their safe return from Outremer, a journey that will include a stay at Tyndal Priory. Envoys are sent to confirm that everything will be suitable for the king's wife, and Prioress Eleanor nervously awaits them, knowing that regal visits bring along expense and honor. The cost is higher than expected, however, when Death arrives as the unexpected emissary. One of the courtiers is murdered near the hut where Brother Thomas now lives as a hermit. Each member of the party has reason to hate the dead man, including Crowner Ralf's eldest brother, Sir Fulke, and the prioress's nemesis, the man in black. Soon Eleanor is embroiled in the dangerous world of power games, both secular and religious. Indeed, England's future under a new king may offer hope and relief, but skeletons from the past can come back to life like those in the biblical valley of dry bones. Which had cause enough to kill?
About the Author
---
Priscilla Royal grew up in British Columbia, received a degree in World Literature from San Francisco State University, and lives in Northern California. She is a member of California Writers Club, Sisters in Crime and Mystery Writers of America. Her medieval mysteries, set in late thirteenth century England, include: Wine of Violence, Tyrant of the Mind, Sorrow Without End, Justice for the Damned, Forsaken Soul, Chambers of Death, and the latest, Valley of Dry Bones.
Praise For…
---
"Once again, Royal combines a well-executed plot with authentic period detail." –Publishers Weekly on Chambers of Death   STARRED REVIEW "Against an authentic backdrop of medieval life and lore, Royal once again brings alive characters who are true to their period yet exhibit emotions and feelings that 21st-century readers will recognize as their own. " –Publishers Weekly on Forsaken Soul   STARRED REVIEW "The author subtly treats the erotic charge surrounding Eleanor and Thomas while shedding light on 13th-century understandings of sexuality. Royal draws together the murder, the manuscript and the ghost in an unexpected conclusion." –Publishers Weekly on Justice for the Damned