Chambers of Death: A Medieval Mystery (Medieval Mysteries #6) (Large Print / Paperback)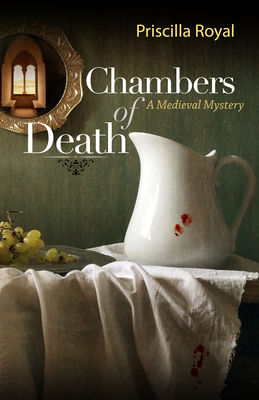 for information about purchasing this book, please contact orders@bookpassage.com
Other Books in Series
This is book number 6 in the Medieval Mysteries series.
Description
---
When one of her company falls ill on a return journey to Tyndal, Prioress Eleanor accepts lodging at a nearby manor. Master Stevyns' wife is having an affair with the groom while a local widow acts more the lady of the manor than the lady herself. His eldest son and spouse are obsessed with sin and heaven while his youngest son, bound for the Church, unexpectedly returns with more interest in lute playing than the priesthood. It is no surprise when someone's throat is cut, but the sheriff does all he can to avoid offending the family rather than seeking the real killer. When he arrests a servant, she herself is stabbed before she can either prove innocence or be taken off for hanging. Will Eleanor discover the dark secrets that have led to this string of killings before the murderer strikes again?
About the Author
---
Priscilla Royal grew up in British Columbia and has a degree in world literature from San Fransisco State University, where she discovered the beauty of medieval literature. She worked for the Federal government in a variety of positions, all of which provided a wonderful education in the complexity of human experience and motivation. She is a theater fan as well as a reader of history, mystery, and fiction of lesser violence. She now lives in Northern California and belongs to the Mystery Writers of America, California Writers Club, and Sisters in Crime. Chambers of Death is sixth in her medieval mystery series.
Praise For…
---
"Once again, Royal combines a well-executed plot with authentic period detail." --Publisher's Weekly
 
"Priscilla Royal understands the human heart, the medieval mind, and how to rachet up the suspense with each turning page. Her books keep getting better and better." --Sharon Kay Pen, NYT bestselling author
"Suspense and suspects abound as the devout duo winds its way through the startling twists and turns of the well-crafted plot. A worthy successor to Ellis Peters' Brother Cadfael, Prioress Eleanor also compares favorably with Peter Tremayne's Sister Fidelma." –Booklist