Beasts of 42nd Street (Paperback)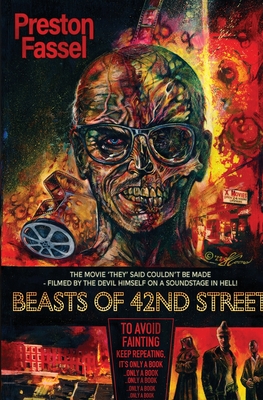 $17.99

Usually Ships in 1-5 Days
Description
---
From the award-winning author of Our Lady of the Inferno comes another tale of New York in the Bad Old Days: A saga of murder, bloodshed, and betrayal set against the backdrop of Times Square at the height of its decadence and depravity.
In the kingdom of the damned that is 42nd Street, there's no lowlier subject than Andy Lew. An unrepentant junkie, voyeur, and degenerate, he's only tolerated by the more dangerous men around him because he keeps the projectors at the Colossus theater running on time, entertaining them with the most extreme horror cinema money can buy.
There's something unique about Andy, though. He owns a movie. It's the only one of its kind. No one knows who made it. Only he knows where it came from. The woman it stars is beautiful beyond imagination-and the images it depicts are more nightmarish than the darkest depths of Hell. The beasts of 42nd Street will do anything to possess it, but there's something they don't understand. Andy loves the woman in the movie-and he'll go to any lengths to protect her...
A savage love letter to 70s exploitation cinema and a biting satire of toxic fan culture, Beasts of 42nd Street makes horror dangerous again as it ventures into the mind of a psychopath like no other- one that will have readers recoiling even as they keep coming back for more.
"Preston Fassel has proven himself as one of our most powerful upcoming voices in horror literature with Beasts of 42nd Street. Fassel simultaneously winks at past horror sub-genres while delving into new and innovative territory, creating both a love letter to 70s exploitation cinema while weaving a tight, contemporary, psychological horror tale." -Rebekah McKendry, PhD
"Like the bastard lovechild of Paul Schrader and Abel Ferrera, Preston Fassel's Beasts of 42nd Street is a sleazy, audacious, razor-sharp slice of bloody exploitation...You may be able to wipe away the grime after reading this book, but the smile will stay for days." -Kealan Patrick Burke, Bram Stoker
Award-winning author of Kin and Sour Candy
"You could sit around and moan about how they don't write 'em like they used to, or you could get acquainted with Preston Fassel. Beasts of 42nd Street is more reflective than you might expect from a book whose main character is a junkie projectionist...but it's as vividly drawn and engrossingly readable as any dog-eared paperback from the heyday of pulp fiction." -Katie Rife; The aV Club, Rolling Stone
"...one of the best detective novels to come down the pike in a long while. A rogues' gallery of great characters and a killer story mixed with New York City in all its 1970s sleazy glory. What's not to love?" -Harry Hunsicker, author of The Devil's Country; former executive vice president of the Mystery Writers of America
"Fassel impressively grafts a grimy, thrilling horror story onto the richly rendered true grindhouse setting of 42nd Street, using actual events and places to flesh out this exploitation nightmare. Demonstrating expansive research and knowledge of the era, Fassel's latest impresses on every level."
-Meagan Navarro, Bloody Disgusting
"You don't just read this book, you live it. A desperate love story of obsession and madness that could've only happened on 42nd street." -Matt Serafini, author of Rites of Extinction and under The Blade
"...a work of gritty, haunting storytelling. You won't be able to forget Andy Lew's descent into forbidden cinema." -John Palisano; President, HWA