Reading Women: How the Great Books of Feminism Changed My Life (Paperback)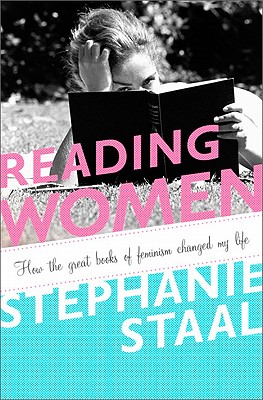 $17.99

Usually Ships in 1-5 Days
Description
---
When Stephanie Staal first read The Feminine Mystique in college, she found it "a mildly interesting relic from another era." But more than a decade later, as a married stay-at-home mom in the suburbs, Staal rediscovered Betty Friedan's classic work -- and was surprised how much she identified with the laments and misgivings of 1950s housewives. She set out on a quest: to reenroll at Barnard and re-read the great books she had first encountered as an undergrad.

From the banishment of Eve to Judith Butler's Gender Trouble, Staal explores the significance of each of these classic tales by and of women, highlighting the relevance these ideas still have today. This process leads Staal to find the self she thought she had lost -- curious and ambitious, zany and critical -- and inspires new understandings of her relationships with her husband, her mother, and her daughter.
About the Author
---
Stephanie Staal is a former features reporter for the Newark Star-Ledger, and has written for Cosmopolitan, Glamour, Self, and the Washington Post. She is the author of The Love They Lost, a journalistic memoir about the long-term effects of parental divorce. A graduate of Barnard College and Columbia University's Graduate School of Journalism, she now lives in Brooklyn, New York.
Praise For…
---
J. Courtney Sullivan
"If you could enroll in your favorite Women's Studies class again ten years after graduation, armed with everything you know about the complexities and compromises of adult life, what would you make of the feminist ideals you once held dear? That's exactly what Staal endeavors to find out in this brave and compelling book, which is one part memoir, one part astute literary analysis. As she struggles to make sense of love, life, marriage, and motherhood on her own terms, the author traces the history of women's words over centuries—from Mary Wollstonecraft and Virginia Woolf to Erica Jong and Katie Roiphe. I cherished every page."
Debora Spar, president of Barnard College
"A swift, enchanting, and informative sweep through the feminist canon."  
Katie Crouch
"
Reading Women
is terrific. Stephanie Staal's exploration of the great texts of the women who have walked before us is fresh, funny, and a wise reminder that now, more than ever, we need to feed the feminist within." 
Booklist, February 15, 2011

"Intimate in its reflections and keenly perceptive on a larger scale, Staal's erudite literary memoir refreshingly embraces women's eternal quest for self-knowledge."