Island Practice: Cobblestone Rash, Underground Tom, and Other Adventures of a Nantucket Doctor (Hardcover)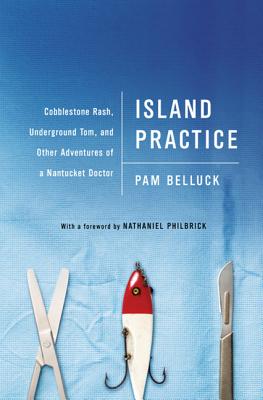 Description
---
With a Foreword by Nathaniel Philbrick, author of the bestseller In the Heart of the Sea
If you need an appendectomy, he can do it with a stone scalpel he carved himself. If you have a condition nobody can diagnose--"creeping eruption" perhaps--he can identify what it is, and treat it. A baby with toe-tourniquet syndrome, a human leg that's washed ashore, a horse with Lyme disease, a narcoleptic falling face-first in the street, a hermit living underground--hardly anything is off-limits for Dr. Timothy J. Lepore.This is the spirited, true story of a colorful, contrarian doctor on the world-famous island of Nantucket. Thirty miles out to sea, in a strikingly offbeat place known for wealthy summer people but also home to independent-minded, idiosyncratic year-rounders, Lepore holds the life of the island, often quite literally, in his hands. He's surgeon, medical examiner, football team doctor, tick expert, unofficial psychologist, accidental homicide detective, occasional veterinarian. When crisis strikes, he's deeply involved.He's treated Jimmy Buffett, Chris Matthews, and various Kennedy relatives, but he makes house calls for anyone and lets people pay him nothing--or anything: oatmeal raisin cookies, a weather-beaten .44 Magnum, a picture of a Nepalese shaman.Lepore can be controversial and contradictory, espousing conservative views while performing abortions and giving patients marijuana cookies. He has unusual hobbies: he's a gun fanatic, roadkill collector, and concocter of pastimes like knitting dog-hair sweaters.Ultimately,
Island Practice
is about a doctor utterly essential to a community at a time when medicine is increasingly money-driven and impersonal. Can he remain a maverick even as a healthcare chain subsumes his hospital? Every community has--or, some would say, needs--a Doctor Lepore, and his island's drive to retain individuality in a cookie-cutter world is echoed across the country.
About the Author
---
Pam Belluck has been a staff writer for the New York Times for more than fifteen years, during which she has written about everything from cattle rustling to embryo adoption, reported from places as diverse as Medellin, Colombia, and Seongham, South Korea. She served for more than a decade as national bureau chief, covering some of the biggest stories for the paper. She is currently a health and medical writer for the Times. She has won several awards, a Knight Fellowship, and a Fulbright Scholarship.
Praise For…
---
from the Foreword by Nathaniel Philbrick, author of In the Heart of the Sea and The Last Stand
"Much in this book by Pam Belluck comes as a revelation. Some of it is fascinating; some of it is hilarious; and some of it is sad and very troubling. In Island Practice, Belluck has created a remarkable portrait of a physician and the island community to which he remains steadfastly devoted."
Dava Sobel, author of Longitude and Galileo's Daughter
"Pam Belluck has dissected the antics and heroism of a Nantucket doctor who doubles as the resident wizard. This physician not only makes house calls (even to tree-houses), but also invites patients to drop in at his house for treatment. If you suffer from Nantucket Fever—or any other ill while on that island—Dr. Tim Lepore is your man."
Warren St. John, author of Rammer Jammer Yellow Hammer and Outcasts United
"Through the improbable story of an eccentric and intensely creative Nantucket doctor—the man has operated with flints!—Pam Belluck has crafted an elegant and wildly entertaining depiction of the struggle to maintain humanity and empathy in the face of health care's ongoing industrialization. A natural storyteller with a reporter's eye for detail and a stand-up comic's dry wit, Belluck leaves the reader with an urge to feign illness just to have an excuse to visit her subject. A truly wonderful read."
Elin Hilderbrand, author of Silver Girl and other novels
"If you want to understand the 'real' Nantucket, you must read Island Practice. Dr. Tim Lepore personifies the island's fierce, quirky, and independent spirit. This is a book about an extraordinary man—a doctor, yes, but also a community hero. His story is as engrossing as the best fiction ... but it's all true."
Kirkus Reviews
"[an] absorbing debut…An intriguing biography of a unique—and on Nantucket, irreplaceable—doctor."
Publishers Weekly
"Page-turning prose…. Inspiring and entertaining, Lepore's story and his beloved island come to life in Belluck's hands."
Nantucket Inquirer and Mirror
"A vibrant, throbbing and sometimes painful book about life on an is­land and all the messiness that goes along with helping people through hard times if you're the local doctor…
Island Practice
is chock full of col­orful anecdotes of island life, humor, empathy, colorful and sometimes X-rated medical emer­gencies and the mundane that make up the life of a country, or is­land, doctor." 
David Goodman, Nantucket Inquirer and Mirror
"
Island Practice
' is interesting, funny, even sad, and an extremely well-written book." 
PEOPLE Magazine
"A fun profile of Nantucket's gun-toting, marijuana-prescribing, house-call-making local doc." 
Boston Globe
"Belluck's prose is beautiful and lyrical…[T]he Lepore she gives us is a fascinating character." 
Huntington News
"If you were as entranced as I was with John Berendt's "Midnight in the Garden of Good and Evil" and Susan Orlean's "The Orchid Thief", you'll find similar pleasures in "Island Practice."
New York Journal of Books
"Outstanding imagery and character description. Readable, interesting, and almost cautionary in its description of what we have lost in today's world of medicine….Thank goodness for writers like Pam Belluck who, in
Island Practice
, presents Dr. Tim Lepore, a cross between Marcus Welby and Hawkeye Pierce of M*A*S*H fame."
Chicago Tribune
"A careful, eminently readable character study of a fascinating, difficult man whose curiosity and compassion are far too rare in the practice of modern medicine."
Commercial Dispatch 

"Funny, startling, and sobering by turns"
Library Journal

"This is a riveting portrait of a dynamic, headstrong physician. Medical nonfiction fans will find much to enjoy. Lepore may remind readers of Dr. Paul Farmer from Tracy Kidder's Mountains Beyond Mountains."
Cape Ann Beacon

"
New York Times
staff writer Belluck saw a story that begged to be told… readers who laugh out loud on a subway …. should be warned ahead of time that it's hard to stop laughing."
Columbus Dispatch

"Belluck has given an often funny, always thoughtful account of an American original and Funny, startling, and sobering by turns,
Island Practice
has a few things to say about the American health care system…"