The Irishman (Movie Tie-In): Frank Sheeran and Closing the Case on Jimmy Hoffa (Paperback)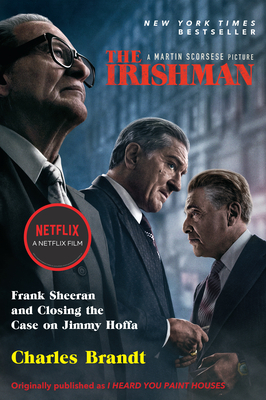 Description
---
ORIGINALLY PUBLISHED AS I HEARD YOU PAINT HOUSES

New York Times Bestseller

Now a major motion picture directed by Academy Award® winner Martin Scorsese, starring Academy Award® winners Robert De Niro, Al Pacino, Joe Pesci, Anna Paquin, and Academy Award® nominee Harvey Keitel, and written by Academy Award® winner Steven Zaillian.
 
The Irishman "gives new meaning to the term 'guilty pleasure.''' — Bryan Burrough, author of Public Enemies, in The New York Times Book Review
 
"Told with such economy and chilling force as to make The Sopranos suddenly seem overwrought and theatrical." —New York Daily News
 
"A terrific read." —Kansas City Star
 
Includes an Epilogue and a Conclusion that detail substantial post-publication corroboration of Frank Sheeran's revelations about the killings of Jimmy Hoffa, Joey Gallo and JFK.

The Irishman is an epic saga of organized crime in post-war America told through the eyes of World War II veteran Frank Sheeran, a hustler and hitman who worked for legendary crime boss Russell Bufalino alongside some of the most notorious figures of the 20th Century. Spanning decades, Sheeran's story chronicles one of the greatest unsolved mysteries in American history, the disappearance of legendary union boss Jimmy Hoffa, and it offers a monumental journey through the hidden corridors of organized crime: its inner workings, rivalries and connections to mainstream politics. Sheeran would rise to a position of such prominence that in a RICO suit against The Commission of La Cosa Nostra, the US Government would name him as one of only two non-Italians in conspiracy with the Commission. Sheeran is listed alongside the likes of Anthony "Tony Pro" Provenzano and Anthony "Fat Tony" Salerno.

In the course of nearly five years of recorded interviews, Sheeran confessed to Charles Brandt that he handled more than twenty-five hits for the mob, and Brandt turned Sheeran's story into a page-turning true crime classic.
About the Author
---
Born and raised in New York City, Charles Brandt is a former junior high school English teacher, welfare investigator in East Harlem, homicide prosecutor, and Chief Deputy Attorney General of the State of Delaware. In private practice since 1976, Brandt has been president of the Delaware Trial Lawyers Association and the Delaware Chapter of the American Board of Trial Advocates. He has been named by his peers to both Best Lawyers in America and Best Lawyers in Delaware. He is a frequent speaker on cross-examination and interrogation techniques for reluctant witnesses. Brandt is the author of a novel based on major cases he solved through interrogation, The Right to Remain Silent. He is also the co-author of Joe Pistone's Donnie Brasco: Unfinished Business and of Lin DeVecchio's We're Going to Win This Thing: The Shocking Frame-Up of a Mafia Crime Buster.
Praise For…
---
'The Irishman' named Best Film By National Board Of Review and New York Film Critics Circle

"Sheeran's confession that he killed Hoffa in the manner described in the book is supported by the forensic evidence, is entirely credible, and solves the Hoffa mystery."  — Michael Baden M.D., former Chief Medical Examiner of the City of New York

"I'm fully convinced – now – that Sheeran was in fact the man who did the deed. And I'm impressed, too, by the book's readability and by its factual accuracy in all areas on which I'm qualified to pass judgment. Charles Brandt has solved the Hoffa mystery." —Professor Arthur Sloane, author of Hoffa

"Sometimes you can believe everything you read." — William "Big Billy" D'Elia, successor to Russell Bufalino as godfather of the Bufalino crime family

"My source in the Bufalino family . . . read I Heard You Paint Houses. All the Bufalino guys read it. This old-time Bufalino guy told me he was shocked. He couldn't believe Sheeran confessed all that stuff to [Brandt]. It's all true." — New York Police Department organized crime homicide detective Joseph Coffey

"If the made men Brandt rubbed up against during his five years with Sheeran suspected what Sheeran was confessing to him on tape, they'd both have been promptly whacked." — Joe Pistone, retired FBI deep undercover agent and the author of Donnie Brasco

I Heard You Paint Houses "gives new meaning to the term 'guilty pleasure.' It promises to clear up the mystery of Hoffa's demise, and appears to do so. Sheeran not only admits he was in on the hit, he says it was he who actually pulled the trigger — and not just on Hoffa but on dozens of other victims, including many, he alleges, dispatched on Hoffa's orders. This last seems likely to spur a reappraisal of Hoffa's career. . . . Sheeran is Old School, and his tale is admirably free of self-pity and self-aggrandize­ment. Without getting all Oprah about it, he admits he was an alcoholic and a lousy father. His business was killing people, and . . . he did it with little muss, fuss or introspection.'' — Bryan Burrough, author of Public Enemies, in The New York Times Book Review

"One of Sheeran's virtues was his gift as a storyteller; one of his flaws was his tendency to murder, in mobster jargon, 'to paint houses.' . . . Although he professed his loyalty to Hoffa – he said on one occasion, 'I'll be a Hoffa man 'til they pat my face with a shovel and steal my cufflinks' − Sheeran acknowledged that he was the one who killed the Teamsters boss. . . . On July 30, 1975, Hoffa disappeared. Sheeran explains how he did it, in prose reminiscent of the best gangster films."  — Associated Press

"I Heard You Paint Houses is the best Mafia book I ever read, and believe me, I read them all. It's so authentic." — Steven Van Zandt, featured actor, "Silvio Dante," in The Sopranos and musician in Bruce Springsteen's E Street Band 

"Told with such economy and chilling force as to make The Sopranos suddenly seem overwrought and theatrical." —New York Daily News

"Is Sheeran believable? Very . . . and 'I Heard You Paint Houses' is a very enjoyable book." —Trial Magazine

"A page-turning account of one man's descent into the mob." —Delaware News Journal

"A terrific read." —Kansas City Star