Will Starling: A Novel (Paperback)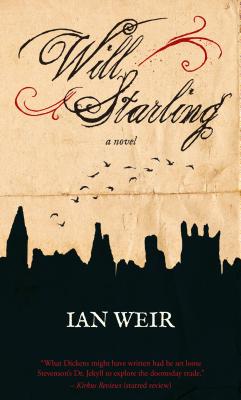 for information about purchasing this book, please contact orders@bookpassage.com
Description
---
The Reckoning of WM. STARLING, Esq., a Foundling, concerning Monstrous Crimes and Infernal Aspirations, with Perpetrators Named and Shrouded Infamies disclosed to Light of Day, as set down by his Own Hand in this year 1816

London, 1816. The Napoleonic War is over, Romanticism is at its high tide, and the great city is charged with the thrill of scientific discovery and Regency abandon. The nineteen-year-old foundling Will Starling returns from the Continent, having spent five years assisting military surgeon Alec Comrie, and now is helping Comrie build a civilian practice in London's rough Cripplegate area. This means entering into an uneasy alliance with the Doomsday Men: grave robbers who supply surgeons with cadavers for dissection. There are wild rumors about Dionysus Atherton, an old university friend of Comrie's and the brightest of London's emerging surgical stars, whispers of experiments on corpses not quite dead, in a bid to unlock the mystery of death itself. Will works obsessively to ferret out the truth; the investigation twists and turns through brothels and charnel houses and the mansions of Mayfair.
About the Author
---
IAN WEIR is an award winning playwright, screenwriter and novelist. His first historical fiction novel, Daniel O'Thunder, was named one of the top historical novels of 2011 by Library Journal and was a finalist for four awards: The Commonwealth Writers' Prize for First Book, the Amazon.ca First Novel Award, the Ethel Wilson Fiction Prize and the Canadian Authors Association Award for Fiction. Ian lives near Vancouver, B.C., and was writer and executive producer of the critically acclaimed CBC miniseries Dragon Boys and is creator and executive producer of the CBC hit tv series Arctic Air. He has also written more than 150 episodes for over twenty different series, stage plays, radio plays, and young adult novels. Will Starling is his second novel for adults.
Praise For…
---
Longlisted for the International Dublin Literary Award

"A magnificent new novel . . . a sumptuous Frankensteinian potboiler of knockabout slang, scientific lore, rollicking personalities and atmosphere thick as fog . . . While its themes of death, scientific perversion, classism and poverty may be dark as pitch, Weir's style and wit ensures the novel remains a boisterous, subversive romp." — Publishers Weekly (Starred Review)

"An extraordinary rendition of life in Regency-era London . . . Weir has written a mystery worthy of every word while adding historical tidbits. . . Characters rollick and scheme through a plot as snaky as a London alley in a setting as powerful as a chamber pot tossed from a garret window. . . What Dickens might have written had he set loose Stevenson's Dr. Jekyll to explore the doomsday trade." — Kirkus Reviews (Starred Review)

"Starling is a charismatic, engaging narrator, and his personal connection to Atherton frames an underlying story of redemption and the legacy of ultimate power. A fascinating, well-researched exploration of surgery's shift from disreputable butchery to medical science, shot through with an irresistible Frankenstein current; perfect for those who enjoy Louis Bayard's dark historical thrillers and Dan Simmons' Drood (2009)." — Christine Tran, Booklist
"[Weir]'s taken the kind of nascently-pre-Victorian narrative that might have been written by Fielding or Richardson or their slightly later compatriots (the book takes place in 1816), with that mode's picaresque, loquacious, directly-address-the audience-baggy-pants-style, and created a new instance of such. No nudge-nudge or smarmy aren't-we-superior attitude. Just a rollicking good tale in the manner of his literary ancestors. . . Weir has assembled a vast assortment of unforgettable characters here, granting each one full individuality and agency. . . [T]he city of London comes alive with brawling, loving, laughing and weeping humanity. " — Locus Online
"Weir, the creator of CBC's Arctic Air, has written a note-perfect historical novel of body snatching, murder and evil fun." — The Toronto Star

"[Ian Weir] crafts a wonderfully, thrillingly fun–if truly smelly and gross–romp. . . an extraordinary tale—of inquiry, of secrets pried, of love and vengeance—with melodramatic theatrical and literary tropes in play. . . [a] clever and masterfully told 'lurid Tale.'" — The Winnipeg Review

"Will Starling is a remarkably subversive novel. . . compelling and convincing. . . a novel that is at once rewarding and heartbreaking, satisfying on both intellectual and emotional levels. . . Will Starling - both the character and the book - is a splendid literary achievement, and a genuine pleasure." — The Globe and Mail

"Weir's writing is so springy, and his vision so panoramic, that you won't care that the novel makes you feel as though you've got dirt under your fingernails just from reading it. Yet amid the muck, Will Starling also presents a ringing and surprisingly touching endorsement of science over legend and anecdote." — National Post

"A rollicking good yarn with many twists and turns. . . It's a lot of fun and a tale well told." —The Vancouver Sun

"Will Starling is a sly, spirited hero who leaps off the page to take you on a riveting journey through London's glorious, hair-raising underbelly -- surgeons' salons, gin shops, and the puzzle of Death itself -- and straight into the nature of storytelling. Weir's prose is both raw and lyrical; his evocation of Regency London, magnificent. Will Starling is a must read." — Stacy Carlson, author of Among the Wonderful

"Will Starling is a rollicking romp through the English language, an earthy, bawdy, brain-bending delight. — Annabel Lyon, author of The Sweet Girl 

"Ian Weir's crackerjack novel is many things: a whodunit, a penny dreadful, a scrupulous historical narrative-- but most of all and most simply, it is a rollicking, fireballing, big-hearted book that's just a hell of a lot of fun to read." — Craig Davidson, author of Cataract City 

"This is not the polite England of Jane Austen or George Eliot but the graveyards, hospitals and charnel houses of East London . . . Ian Weir's characters are as engaging as the Artful Dodger or Fagin or Martin Chuzzlewit." — Roberta Rich, author of The Midwife of Venice