Essence of the Dhammapada: The Buddha's Call to Nirvana (Wisdom of India #3) (Paperback)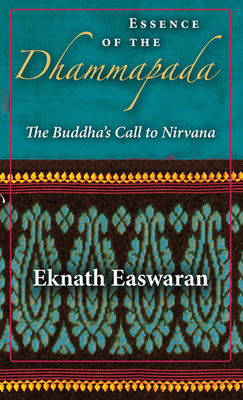 $14.95

Usually Ships in 1-5 Days
Other Books in Series
This is book number 3 in the Wisdom of India series.
Description
---
In this companion to his best-selling translation of The Dhammapada, Eknath Easwaran explains how The Dhammapada is a perfect map for the spiritual journey. Said to be the text closest to the Buddha's actual words, The Dhammapada is a collection of short teachings that his disciples memorized during his lifetime. Easwaran presents The Dhammapada as a guide to spiritual perseverance, progress, and ultimately enlightenment -- a heroic confrontation with life as it really is, with straight answers to our deepest questions. We witness the heartbreak of death, for instance -- what does that mean for us? What is love? How does karma work? How do we follow the spiritual life in the midst of work and family? Does nirvana really exist, and if so, what is it like to be illumined? In his interpretation of Buddhist themes, illustrated with stories from the Buddha's life, Easwaran offers a view of the concept of Right Understanding that is both exhilarating and instructive. He shares his experiences on the spiritual path, giving the advice that only an experienced teacher and practitioner can offer, and urges us to answer for ourselves the Buddha's call to nirvana -- that mysterious, enduring state of wisdom, joy, and peace.
About the Author
---
Eknath Easwaran (1910-1999) grew up in India and studied both Sanskrit and Pali, the simplified version of Sanskrit that was spoken by the Buddha. He was chairman of the English department at a major Indian university when he came to the United States on a Fulbright fellowship in 1959. In 1961 Easwaran founded the Blue Mountain Center of Meditation in California, and in 1967, at the University of California, Berkeley, he taught the first academic course on meditation ever offered for credit at a major American university. From the mid 1970s onwards, Easwaran held classes on the core Buddhist scripture, the Dhammapada, in addition to his talks on meditation, world mysticism, and spiritual living. A gifted teacher, he was able to anticipate the problems that Western readers may have with the concepts underlying the classics of Indian spirituality, and to explain them in fresh and profoundly simple ways. Easwaran's translations of the Indian classics, the Dhammapada, The Bhagavad Gita, and The Upanishads, are all best-selling editions in English. His books have been translated into 16 languages, and more than 2 million copies are in print.