Healing Developmental Trauma: How Early Trauma Affects Self-Regulation, Self-Image, and the Capacity for Relationship (Paperback)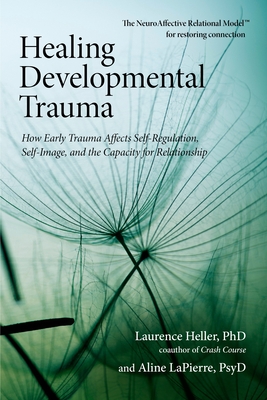 $22.95

Usually Ships in 1-5 Days
Description
---
This "well-organized, valuable" guide draws from somatic-based psychotherapy and neuroscience to offer "clear guidance" for coping with childhood trauma (Peter Levine, author of Waking the Tiger and In an Unspoken Voice).
 
Although it may seem that people suffer from an endless number of emotional problems and challenges, Laurence Heller and Aline LaPierre maintain that most of these can be traced to five biologically based organizing principles: the need for connection, attunement, trust, autonomy, and love-sexuality. They describe how early trauma impairs the capacity for connection to self and others and how the ensuing diminished aliveness is the hidden dimension that underlies most psychological and many physiological problems.
 
Heller and LaPierre introduce the NeuroAffective Relational Model® (NARM), a method that integrates bottom-up and top-down approaches to regulate the nervous system and resolve distortions of identity such as low self-esteem, shame, and chronic self-judgment that are the outcome of developmental and relational trauma. While not ignoring a person's past, NARM emphasizes working in the present moment to focus on clients' strengths, resources, and resiliency in order to integrate the experience of connection that sustains our physiology, psychology, and capacity for relationship.
About the Author
---
Laurence Heller, PhD, is the originator of the NeuroAffective Relational Model©, a unified approach to developmental, attachment, and shock trauma. He co-founded the Gestalt Institute of Denver and is a senior faculty member for the Somatic Experiencing Training Institute.

Aline LaPierre, PSYD, is founder and director of the NeuroAffective Touch® Institute and developer of NeuroAffective Touch® specializing in teaching the integration of therapeutic touch and psychotherapy. Dr. LaPierre is a graduate of Pacifica Graduate Institute, Santa Barbara, and The New Center for Psychoanalysis in Los Angeles, and is trained in many body-centered modalities, including Somatic Experiencing®, Continuum, Body-Mind Centering, acupressure, as well as craniosacral, deep tissue, and neuromuscular bodywork. Past faculty in the Somatic Doctoral Program at Santa Barbara Graduate Institute (2000–2010), she is deputy editor of the International Body Psychotherapy Journal and vice president of the United States Association for Body Psychotherapy (USABP). A clinician, author, artist, and teacher, she maintains a private practice in West Los Angeles. For further information on NeuroAffective Touch®, please visit www.NeuroAffectiveTouch.com.
Praise For…
---
"Healing Developmental Trauma presents a comprehensive exploration of our deepest human urge. Seasoned clinicians Larry Heller and Aline LaPierre weave a rich and coherent synthesis of childhood development in the pioneering tradition of Wilhelm Reich, Erik Erikson, and Alexander Lowen. This well-organized, valuable book offers easy-to-understand tools for all of us who are seeking a better understanding of our fundamental conflicts between oneness and separateness, dependence and autonomy. Healing Developmental Trauma provides clear guidance to help us hold, with knowledge and self-compassion, those seemingly irreconcilable opposites and is a vital and accessible map supporting emotional maturity and psycho-spiritual growth."
—Peter A Levine, PhD, author of In an Unspoken Voice: How the Body Releases Trauma and Restores Goodness and Waking the Tiger: Healing Trauma

"Laurence Heller, PhD and Aline LaPierre, PsyD's Healing Developmental Trauma provides a method that blends bottom-up and top-down approaches to regulating the nervous system, and provides the NeuroAffective Relational Model which focuses on maximizing client strengths and resiliency to integrate physical and emotional connections in the body."
—Midwest Book Review