The 12-Step Buddhist 10th Anniversary Edition (Paperback)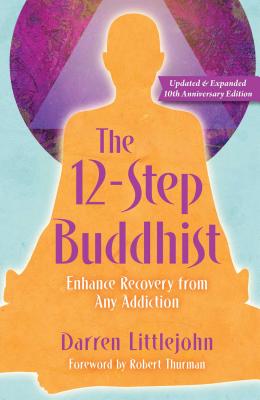 $17.00

Usually Ships in 1-5 Days
Description
---
Rediscover the classic guide for recovery with this tenth anniversary edition "that transcends genres by seamlessly integrating the 12-Step approach, Buddhist principles, and a compelling personal struggle with addiction and a quest for spiritual awakening" (Donald Altman, author of Living Kindness).

The face of addiction and alcoholism is recognizable to many—it may be a celebrity, a colleague, or even a loved one. And though the 12-step program by itself can often bring initial success, many addicts find themselves relapsing back into old ways and old patterns, or replacing one addiction with another.

Working with the traditional 12-step philosophy, Darren Littlejohn first shares his own journey, and how he came to find the spiritual solace that has greatly enhanced his life in recovery. Then, he details out how his work integrating Buddhism into the traditional 12-step programs validates both aspects of the recovery process. With accessible prose and in-depth research, he illustrates how each step—such as admitting there is a problem, seeking help, engaging in a thorough self-examination, making amends for harm done, and helping other addicts who want to recover—fits into the Bodhisattva path. This integration makes Buddhism accessible for addicts, and the 12 steps understandable for Buddhists who may otherwise be at a loss to help those in need.

The 12-Step Buddhist is designed to be a complimentary practice to the traditional 12-step journey, not a replacement. While traditional programs help addicts become sober by removing the drug of choice and providing a spiritual path, they rarely delve deep into what causes people to suffer in the first place. In this "unique synthesis of the traditional 12-Step model and the liberating wisdom of Dharma" (Mandala Magazine), addicts can truly find a deep, spiritual liberation from all causes and conditions of suffering—for good.
About the Author
---
Darren Littlejohn dropped out of school in the eighth grade in order to "pursue drugs and alcohol as a full-time endeavor." After a long, rough road to sobriety, he passed his high school proficiency exam and went on to earn an AA in Behavior Science from San Jose City College, a BA in Psychology from California State University, Long Beach, and has completed all coursework but the final theses for the MA Pre-Doctoral Research Program, also at the Long Beach campus of California State University. In his personal journey, he studied Zen and Tibetan Buddhism, later integrating all of his life experience, beliefs, credentials and true passion into his work.
Praise For…
---
"The 12-Step Buddhist is one of those rare books that transcends genres by seamlessly integrating the 12-step approach, Buddhist principles, and a compelling personal struggle with addiction and a quest for spiritual awakening." -- Donald Altman, M.A., LPC, author of Living Kindness and Meal by Meal

"The 12-Step Buddhist is a unique synthesis of the traditional 12-Step model and the liberating wisdom of Dharma....This personal presentation of the tools Littlejohn used to find his own liberation from addiction is certainly never boring, and well worth reading." -- Mandala Magazine

"This book is written not based on theory or assumption, but by a person who actually went through the experience of recovery and from that experience has seen the benefits of this system as a way to help other people who are facing the same circumstances. This will be an important contribution to the literature of Buddhism and of recovery in the West." -- Yangsi Rinpoche, Tibetan Buddhist teacher and president of Maitripa Institute

"If the 12-Step program leads to recovery, Buddhist practice and philosophy can provide the spiritual underpinnings needed to stabilize that recovery. [Darren Littlejohn's] interpretation of the 12 Steps as seen through the lens of this wisdom tradition is fascinating and useful. A very practical and inspired guide." -- Susan Piver, author of How Not to Be Afraid of Your Own Life