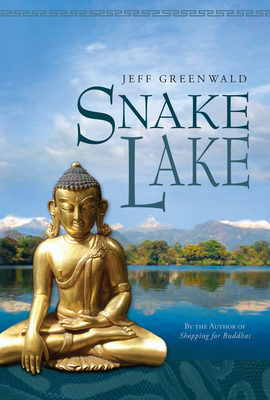 $28.00
Email or call for price
Description
---
Moving between Nepal and America, this blend of memoir and journalism reminds us that "family and home can be every bit as mysterious as a foreign land" (Booklist).
In a circular valley beneath the looming peaks of the Himalaya lies Kathmandu, Nepal. It's a city of shimmering prayer flags, sacred cows, lavish festivals, and violent political turbulence--and a world that journalist Jeff Greenwald has come to call home. Snake Lake unfolds during 1990's dramatic "people power" uprising against Nepal's long-entrenched monarchy. The story follows Greenwald as he wins the friendship of a high lama who reveals the pillars of Tibetan Buddhism; embarks on a passionate romance with a spunky but curiously unlucky news photographer; and discovers what democracy means to rural Nepali citizens--all while covering the revolution for a major American newspaper.
Meanwhile, back in the United States, Greenwald's brilliant but troubled younger brother descends into a deepening depression. The author is forced to choose between witnessing Nepal's long-overdue revolution and reconnecting with an alienated sibling in desperate need of help.
Focused on the life-changing events that unfolded during one calamitous spring, Snake Lake weaves a vivid tapestry of Buddhism, revolution, and the often serpentine paths to personal liberation.
"Twin narratives--the author's introduction to Buddhism and his brother's suicide--form a compelling caduceus of deepening mystery . . . a brave, honest, vivid, and thoughtful book." --Mary Roach
"Funny, informative, sad . . . the best new travel narrative I've read in years." --Tim Cahill
About the Author
---
Jeff Greenwald is the author of five bestselling books, including Shopping for Buddhas and The Size of the World. His writing has appeared widely in print and online in such publications as The New York Times Magazine, National Geographic Adventure, Outside, and Salon.com. He lives in Oakland, California.
Praise For…
---
Praise for Snake Lake

"[Snake Lake] rips into revolution and romance, death, and dharma." Shambhala Sun

"Snake Lake is not only an exploration of the depths of loss and a tender portrait of different kinds of love, it's the fruit of many years of coming to know Nepal with an intimacy few travelers attain. A beautiful and moving book." Henry Shukman, author of The Lost City and Mortimer of the Maghreb

"Greenwald has a gift for electrifying descriptions of the profound intricacy of the world and the mind. His portrait of his erudite, inscrutable, and doomed brother and keenly illuminating memoir of place, spirit, love, and brotherhood are unforgettable." Booklist

Greenwald's tale is masterfully multi-layered . . . As events political and personal unfold, Greenwald interweaves the evolving tale of the [Kathmandu] revolution with his own emotional odyssey through death and love toward enlightenment. In the end, his arduous journey deeply illumines our own." National Geographic (Book of the Month for October)

"Absorbing." Kirkus

"Travel writer Jeff Greenwald's most compelling journey yet. Set against a backdrop of revolution in Nepal, twin narrativesthe author's introduction to Buddhism and his brother's suicideform a compelling caduceus (note clever snake symbolism) of deepening mystery. This is a brave, honest, vivid, and thoughtful book." Mary Roach

Jeff Greenwald has always been a great travel writer, but in Snake Lake he transcends the genre by taking us on a perilous journey through the human heart. By turns poignant and hilarious, Greenwald molds the dramas of his life into teaching stories, filled with both passion and wisdom." Wes Nisker, author of The Essential Crazy Wisdom

Funny, informative, sad and precise, this is the best new travel narrative I've read in years." Tim Cahill, author of Jaguars Ripped My Flesh and Hold the Enlightenment