Toward an Urban Ecology: SCAPE / Landscape Architecture (Paperback)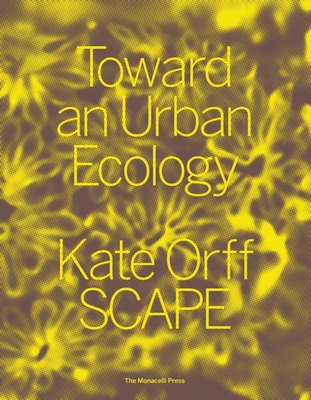 $50.00
Email or call for price
Description
---
A manual, monograph, and call to action, Toward an Urban Ecology points to the future of landscape architecture's role in making resilient, sustainable, and community-oriented spaces.
Kate Orff, 2017 MacArthur Fellow, has an optimistic and transformative message about our world: we can bring together social and ecological systems to sustainably remake our cities and landscapes.
Part monograph, part manual, part manife­sto, Toward an Urban Ecology reconceives urban landscape design as a form of activism, demonstrating how to move beyond familiar and increasingly outmoded ways of thinking about environmental, urban, and social issues as separate domains; and advocating for the synthesis of practice to create a truly urban ecology.
In purely practical terms, SCAPE has already generated numerous tools and techniques that designers, policy makers, and communities can use to address some of the most pressing issues of our time, including the loss of biodiversity, the loss of social cohesion, and ecological degradation. Toward an Urban Ecology features numerous projects and select research from SCAPE, and conveys a range of strategies to engender a more resilient and inclusive built environment.
About the Author
---
Kate Orff's activist and visionary work on design for climate dynamics has been shared and developed in collaboration with arts institutions, governments, and scholars worldwide. Since founding the New York-based landscape architecture and urban design firm SCAPE, Kate Orff has advanced projects of all scales: from award-winning, harbor-wide planning efforts and groundbreaking work for the NYC Coastal Protection Plan, to on-the-ground ecological investigations such as mussel pilot installations in the Gowanus Bay. She is the Director of the Urban Design Program at the Columbia University Graduate School of Architecture, Planning and Preservation.
She joined the MacArthur Fellowship Program - Class of 2017, as the first landscape architect in the Foundation's 36 year history to be honored with the award. Kate's work bridges design, science, and community participation to redefine the role of the landscape architect in the age of climate change. She is coauthor, with Richard Misrach, of Petrochemical America (2012) and coeditor and author of the book Gateway: Visions for an Urban National Park (2011). She lives in Forest Hills, New York.
Praise For…
---
"Those familiar with landscape architecture and urban design today are no doubt already aware of the originality of this practice and would likely expect this book - part manual, part manifesto, and part monograph - to follow suit. The book's ambition is nothing short of reconceiving urban landscape design as a form of activism.... SCAPE's Manufestograph begins to address how we as a discipline can actually effect change. Of all the things this requires—design vision, enabling policies, strategic funding streams, creative partnerships, innovative maintenance strategies, feedback loops, new representation strategies—the most important message this book imparts is the tireless advocacy that change requires, and which SCAPE is able to model. I want to be doing this. We all should be doing this. SCAPE has got something important going. And we have to believe it will make a difference." - Journal of Architectural Education
"A beautiful book with engaging full-page color photography that delves into Breakwaters, their Rebuild by Design project in Staten Island, and others." - The Dirt
"Kate Orff is an optimistic and creative force in the world of climate adaptive design. Her book is part monograph and part a clarion call for the need of meshing the social and environmental to deal with the future problems of our planet." - Land8
"Cities have multiple connections to the biosphere. Today they are all negative, destructive. This book shows us in great detail and with splendid clarity how we can turn them positive. It goes well beyond standard solutions as it brilliantly explores the biosphere and makes discoveries." - Saskia Sassen, Professor, Columbia University and author of Expulsions
"[This book is] a call to action on urban ecology and climate change, with landscape as the principal medium. Kate Orff's Toward an Urban Ecology is a presentation of ground-breaking projects by SCAPE, and the principles and strategies that underlie their success. Human societies cannot successfully mitigate and adapt to the stresses of climate change without a new state of mind, and landscape architects and artists have an essential role to play....required reading for landscape architects." - Anne Whiston Spirn, Professor of Landscape Architecture and Planning, Massachusetts Institute of Technology, author of The Granite Garden