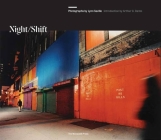 Description
---
Lynn Saville photographs New York during the time of transition from daylight to night, the fleeting moments when natural light gives way to streetlight, moonlight, window light, and advertisement and surveillance lighting. Subdued tones and shadows reveal a geometry hidden beneath the visual distractions of daylight. Saville has sought out places that seem questionable—deserted factories, back alleys, the shadowy infrastructure of urban highways and bridges that suggest the city's exoskeleton.

Unpopulated and sometimes unsettling, these images can be read on many levels; their evocative colors can seem garish or sublime. Taken together the photographs of Night/Shift create a unique portrait of the city and a personal meditation for each viewer.
About the Author
---
Lynn Saville is a photographer based in New York. Her work is widely collected by private collectors and institutions including the Los Angeles County Museum of Art, Museum of the City of New York, and the New York Public Library.

Arthur C. Danto is the Johnsonian Professor of Philosophy Emeritus at Columbia University and art critic for "The Nation." He is the author of more than fifteen books, most recently "Unnatural Wonders: Essays from the Gap Between Art and Life," and a contributor to several Monacelli titles including "Betty Woodman" (2006) and "Eric Fischl: 1970-2007" (2008).