Word Hustle: Critical Essays and Reflections on the Works of Donald Goines (Paperback)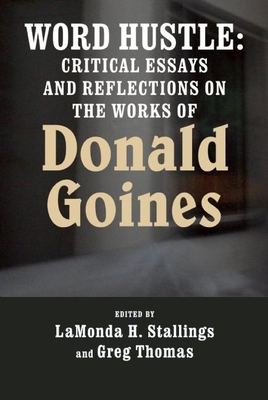 $24.95

Usually Ships in 1-5 Days
Description
---
Word Hustle is the first scholarly treatment of fiction writer Donald Goines, and thereby the first serious consideration of what has been termed "street literature," "ghetto literature," "street fiction," or "urban fiction." By examining Goines, one of street literature's most prolific founders, this collection seeks to begin a legitimate study of the genre and its authors. In illuminating the layers of Goines's novels, the contributors engage topics such as Black Power politics, revolutionary violence, domesticity and fatherhood, revisions of the mulatto trope, rape and racialized sexuality, and the prison industrial complex.
The first two essays explore the political and popular importance of Goines's Kenyatta Series, written under the pseudonym of Al C. Clark. With this four book series, Goines produced a protagonist who would become emblematic of Black Power, street life, and tropes of Blaxploitation masculinity. Candice Love Jackson's "The Paradox of Empowerment: Colonialism, Community, and Criminality in the Donald Goines's Kenyatta Series" draws from the ideologies concerning violence and self-defense from the Black Panther Party as well as the "Mau Mau" uprising in continental and Pan-Africanist discourses. Jackson offers a reading of Goines's works as specifically invested in highlighting the importance, failures and paradoxes of Black leadership regarding poor Black people.
In the second essay on the Kenyatta series, "Revolutionary Hustler: Liberatory Violence in Donald Goines's Kenyatta Series," Terrence Tucker studies the novels in this series to establish thematic precedents and literary considerations for the genre of street literature as it existed during the 1970s and for understanding the evolution of the genre as it exists today.
Greg Thomas's "George Jackson - Ambushing - in Swamp Man: Detecting Soledad Brother and Blood in My Eye in Donald Goines" considers the only non-urban novel Goines wrote, Swamp Man. In a move that understands that Black Power was not simply an "East Coast" or "West Coast" phenomenon, Thomas reveals how Goines transplanted Black Power ideologies into his southern protagonist and the novel's themes about racial and sexual violence.
Dennis Chester's "By Certain Codes: African American Masculinity in Donald Goines Daddy Cool" uncovers the layers of Goines's writing concerned with gender and sexuality. He examines representational conflicts between Black masculinity within underclass communities and normative middle class representations.
The fifth essay by L. H. Stallings served as the impetus for this collection. In "I'm Goin' Pimp Whores," Stallings offers a reading of Whoreson as a neo-slave narrative situated in the urban landscape. She forces readers to reconsider questions of class in popular culture and literary analysis.
Cameron Leader-Picone's essay, "Diggin' the Scene with a Gangster Lean: Race as an Institutional Structure in Iceberg Slim and Donald Goines," makes a connection between Goines and his writing mentor, Robert Beck a.k.a. Iceberg Slim. Picone's discussion of the tragic mulatto trope in both authors' works showcases a variation in the trope representation that stem from cultural manifestations of the figure in a different environment (underclass or institutional).
Phyllis Lynne Burns's "'I'll Be There' The Love and Defense Narrative of Black Girl Lost" demonstrates that even in the midst of presenting morally ambiguous characters, anger and vengeance, Goines also considers love. Burns's work observes how Goines challenges representations of the ghetto and the idea that love cannot and does not exist in its oppressed communities.
Next, Andrew Sargent's "Representing Prison Rape: Race, Masculinity, and Incarceration in Donald Goines's White Man's Justice, Black Man's Grief" confirms the vital utility of Goines for dissecting and interrupting a number of still very pressing discourses of oppression and repression
The last essay, Quincy Norwood's "Beneath the Law: Donald Goines and America's Sliding Scale of Criminality" looks at Goines's prison novel, White Man's Justice, Black Man's Grief. Norwood pinpoints elements within the novel that showcase why it is taught in universities across the United States and how the novel provides a voice for prisoners as a group or social class. Taking the street as its model, Word Hustle is an appraisal of Goines's legacy as well as an examination of a tradition and a model of writing. More than a collection of essays, it is a study whose contributors seek to make room for new models for studying Black literature and culture.