First Chess Openings (Paperback)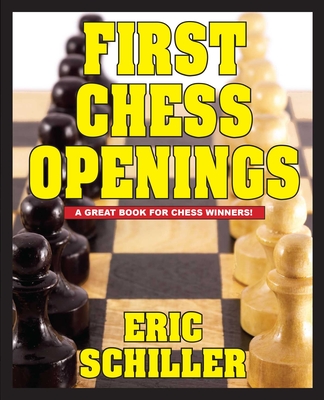 $14.95
Email or call for price
Description
---
The best first or second book on chess openings by a prolific chess master and teacher!

TAKE YOUR FIRST STEP IN CHESS!
First Chess Openings teaches you solid, near-foolproof openings that will help you win. You'll learn the most important openings, plus the four goals you should accomplish in the early moves of the game of chess. This base of knowledge will take your overall game to the next level -- and make playing more fun!

THE EASIEST BEGINNER OPENINGS
In this valuable guide, chess master Eric Schiller uses his decades of playing and teaching experience to break down every major chess opening, including the Fried Liver Attack, the French Defense, the Sicilian Defense, and of course, Fool's Mate. This easy-to-read book is filled with large diagrams, informative charts, and clear explanations and definitions. No variations to memorize -- just 160 pages of winning tactics from one of the most renowned teachers in the world.
If you've struggled to establish strong positions in your first few moves, the lesons in this book will change that. These essential openings are the tools you need to start a chess game with confidence.
About the Author
---
Eric Schiller, author of more than 150 chess books, is widely considered one of the foremost chess analysts, writers and teachers.