Here Come the Brides!: Reflections on Lesbian Love and Marriage (Paperback)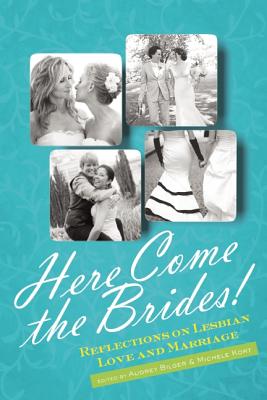 $19.99

Usually Ships in 1-5 Days
Description
---
Marriage today isn't what it used to be: for better, not for worse. As same-sex weddings are becoming more common, the classic love-story happy ending is taking on a decidedly new twist, everyone has a fresh role to play, and supporters and opponents of gay marriage alike are finding themselves in the midst of a revolution that's redefining marriage—both as a personal choice and as an institution—as we know it. 
In Here Come the Brides!, editors Audrey Bilger and Michele Kort gather together the voices of women taking part in-and shaping-this major historical shift. Representing a diversity of points of view in terms of race, class, ethnicity, and gender identification, this collection of essays, stories, and visual images takes a multidimensional look at how opening up the traditional order of "man and wife" to include the possibility of "wife and wife" is altering our social landscape. 
From wedding pictures and images of protest signs to comical anecdotes and sober philosophical analyses, Here Come the Brides! is an exploration of how the legalization of same-sex marriages has irrevocably changed the way lesbians think about their unions and their lives-and a celebration of the dream of lesbian happily-ever-afters.
About the Author
---
Audrey Bilger teaches literature, gender studies, and yoga at Claremont McKenna College, where she has been a member of the faculty since 1994. She holds a bachelor's degree in Philosophy from Oklahoma State University and received her master's and PhD in English from the University of Virginia. At UVa, she was the Program Coordinator of the Women's Center, and she taught for two years at Oberlin College before coming to Claremont. Bilger is currently the Faculty Director of CMC's Center for Writing and Public Discourse, where she conducts and sponsors workshops on writing and communication. She specializes in gender studies, humor, fiction, queer studies, Jane Austen, and women writers. In addition to publishing two books and articles in academic journals, she has written for The Los Angeles Times, The Paris Review, The Women's Review of Books, The Los Angeles Review of Books, and ROCKRGRL. Bilger is a regular contributor to Bitch magazine and writes for Ms. magazine and the Ms. blog, where she frequently covers marriage equality issues and LGBT rights.

Michele Kort was born in Los Angeles and has lived her entire life there. She holds a bachelor's degree in Art History and MBA in Arts Management from UCLA. In her twenties, she worked as an administrator for two community art centers, the Woman's Building and the Social and Public Art Resources Center. At age 27 she discovered her calling as a journalist when she worked as Assistant Editor of The Grantsmanship Center NEWS. She later became associate editor of Songwriter magazine. Since then, Kort has been a freelance writer for such publications as Ms., Women's Sports and Fitness, Los Angeles Times Magazine, Los Angeles Magazine, L.A. Weekly, L.A. Reader, and Redbook, a senior writer for UCLA Magazine, and a senior editor for Living Fit and Fit Pregnancy. She has been the senior editor of Ms. magazine since 2003. Here Come the Brides! is her fourth book.