Curriculum Guide for Dog Tags: Encouraging Literacy and Music in the Classroom (Adventures with Music) (Paperback)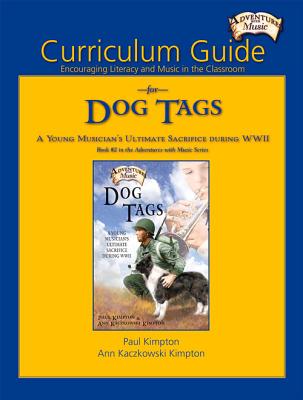 $12.00
Email or call for price
Description
---
This Curriculum Guide is designed to help teachers get the most out of the book Dog Tags: A Young Musician's Ultimate Sacrifice During WWII, the second in the Adventures with Music series…a series where the heroes are young musicians!
 Intended for readers in Grades 4 through 8, the Adventures with Music series fosters a love of reading while exposing students to American history and the foundations of music. The musician characters provide positive role models for any child, but especially students who like music or play an instrument. This Curriculum Guide will assist teachers in developing language, literacy, content, and music skills in their classroom by providing a framework to strengthen student literacy skills while enabling students to develop or enrich their base of musical knowledge. This Guide will also help educators blend the teaching of music with the English Language Arts Common Core State Standards.
 Included are vocabulary suggestions, active reading questions, enrichment activities that cover the entire book. In addition, this Guide contains quizzes, music literacy vocabulary, student worksheets, and much more.
 Written by the authors of Dog Tags, this Curriculum Guide is an essential resource for any teacher hoping to bring positive experiences with music and literacy beyond the classroom.
About the Author
---
Paul Kimpton grew up in a musical family and was a band director in Illinois for 34 years. His father Dale was a high school band director and professor at the University of Illinois, and his mother Barbara was a vocalist. When Paul is not writing, he is reading or enjoying the outdoors.  Ann Kimpton played French horn through college and went on to be a mother, teacher, and high school administrator. Her parents, Henry and Maryalyce Kaczkowski, both educators, instilled an appreciation for the fine arts and the outdoors in all of their children.