Grains for Every Season: Rethinking Our Way with Grains (Hardcover)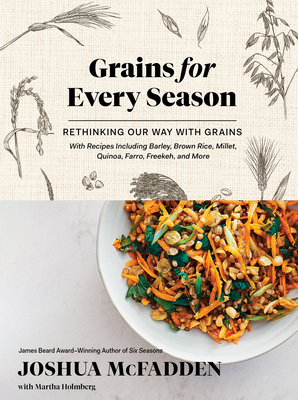 Description
---
Named a Best Book of the Year and a Holiday Gift Pick by Amazon

Named a Best Cookbook the Year by Food52, Booklist, and Library Journal

"A gift to readers . . . For McFadden, flavor comes first."
—Booklist, Top 10 Cookbooks of the Year
 
James Beard Award Finalist

Joshua McFadden's first book, the James Beard Award–winning and perennially bestselling Six Seasons, transformed the way we cook with vegetables. Now he's back with a new book that applies his maximalist approach to flavor and texture to cooking with grains. These knock-your-socks-off recipes include salads, soups, pastas, pizzas, grain bowls, breads—and even desserts. McFadden works as intuitively, as surprisingly, as deliciously with whole grains as he does with vegetables. Grains for Every Season will change the way we cook with barley, brown rice, buckwheat, corn, millet, oats, quinoa, rye, wheat (bulgur, farro, freekeh, spelt, wheat berries, and whole wheat flour), and wild rice.
 
The book's 200 recipes are organized into chapters by grain type, unlocking information on where each one comes from, how to prepare it, and why the author—the multi-award-winning chef/owner of Ava Gene's in Portland—can't live without it. McFadden uses grains both whole and milled into flour. The many gluten-free recipes are clearly designated. 
 
McFadden reveals how each grain can be used in both savory and sweet recipes, from Meat Loaf with Barley and Mushrooms to Peanut Butter–Barley Cookies; from Buckwheat, Lime and Herb Salad to Buckwheat Cream Scones. He folds quinoa into tempura batter to give veggies extra pop and takes advantage of the nutty flavor of spelt flour for Cast-Iron Skillet Spelt Cinnamon Rolls. Four special foldout sections highlight seasonal variations on grain bowls, stir-fries, pizzas, pilafs, and more, to show how flexible and satisfying cooking with grains can be.
 
About the Author
---
Joshua McFadden is the founder of Submarine Hospitality in Portland, Oregon. He owns and manages Ava Gene's, Cicoria, Medjool, and Tusk restaurants. In between running the restaurants, he is bringing new life to Berny Farm, a historic fifty-acre farm in Springdale, Oregon, with the goal of creating an agricultural complex that will host collaborations between farming, food, and design. His first book, Six Seasons: A New Way with Vegetables, also written with Martha Holmberg, won a James Beard Award in 2018. Follow him on Instagram at @jj__mc.
Martha Holmberg is a food writer who has authored or co-authored nine cookbooks. Modern Sauces was a James Beard Award finalist. Six Seasons: A New Way with Vegetables, written with chef Joshua McFadden, won the James Beard Award, and Grains for Every Season, also with McFadden, was a James Beard Award finalist. Holmberg was the editor in chief of Fine Cooking magazine for a decade, the food editor of The Oregonian newspaper in Portland, Oregon, and the founder of MIX magazine. She studied cooking at La Varenne in Paris, where she worked for several years as a private chef. Holmberg lives in Spokane, Washington. Follow her on Instagram @marthaholmberg.
Praise For…
---
"These are some of the most wholesome and wholly delicious things you can eat, period. . . . Each chapter [of Grains for Every Season] has cooking techniques and nutritional breakdowns that unlock the mysteries of the whole grain pantry, from barley to wheat berries. But the fact that they're great for you is secondary to how good they taste." 
—GQ

"Joshua McFadden and his co-author Martha Holmberg write with authority, clarity and passion; it's impossible to read [Grains for Every Season] without wanting to rush into the kitchen. And you will be glad you did. . . . [McFadden's] sense of flavour and the balance of textures is unerring; with him, you know dinner will always be a delight. His food is hearty and yet elegant, inventive but never tricksy."
—Nigella Lawson
"The bigger your family, the greater the likelihood you'll need to accommodate a wide variety of diets. Hence one can't overestimate the value of a good plant-based cookbook. One of the year's most versatile is 
Grains for Every Season
 by Joshua McFadden and Martha Holmberg. Whether you've never quite figured out your way around farro or you just want more quinoa in your life, these whole grains can radically alter your definition of breakfast (Millet Morning Porridge), entrées (Meat Loaf with Barley and Mushrooms), breads (Spelt Buttermilk Biscuits), and sweets (Chocolate Rye Brownies with Cashew Swirl)."
—NPR
"McFadden's modern and accessible approach to cooking brings a kinetic excitement to your kitchen. From quick weekday meals and breakfasts to more complex projects, the recipes ring clear with encouragement and allow for variety and spontaneity."
—Edible Los Angeles, The Season
'
s Most Delicious Reads
"Easy and delicious."
—Closer Weekly
"If you're a vegetable lover, you probably bought the American chef Joshua McFadden's bestselling 
Six Seasons 
(it's one of the best vegetable books I own) so I'm glad to see this follow up on whole grains. The background information on each grain is excellent (though the book is not encyclopaedic, which is a plus). There's plenty of advice, to—how to toast grains, sprout them and cook them by the absorption method. It's the dishes, though, that will sway you."
—Diana Henry, Sunday Telegraph (U.K.), The 20 Best Cookbooks to Buy This Autumn
"Novel takes on recipes for every meal (including dessert) . . . This is a gift to readers, inviting them to buy a single bag of grain and experiment with its uses at different meals and in both cooking and baking. McFadden also offers clear and concise advice on how to store and prep these grains and information on their health benefits. But this isn't a cookbook about healthy eating. For McFadden, flavor comes first." 
—Booklist, STARRED REVIEW
"Joshua McFadden gives new life to ancient—and contemporary—grains. From maple millet bread and barley burgers, to super-fudgy oat cake and "Cracker Jack"-seasoned caramel corn . . .
Grains for Every Season
 changes the grain game!"
—David Lebovitz, author, Drinking French and My Paris Kitchen
"Whole grain lovers, rejoice! How lucky are we to explore the delicious world of whole grains with Joshua McFadden's new cookbook. I recommend starting with Joshua's grain-centric veggie burgers. After giving them a try, you won't make burgers any other way."
—Roxana Jullapat, baker and author, Mother Grains: Recipes for the Grain Revolution