Floyd Cardoz: Flavorwalla: Big Flavor. Bold Spices. A New Way to Cook the Foods You Love. (Hardcover)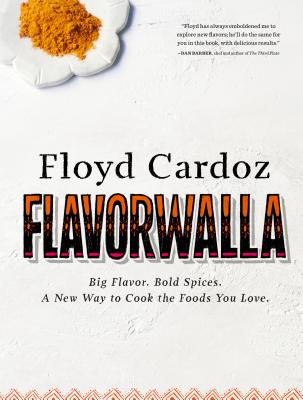 Description
---
From the Winner of Top Chef Masters

"A fun, fresh, and inspiring collection that deserves room on any self-respecting home cook's bookshelf."
—Publishers Weekly, starred review

At his many successful restaurants, including New York City's famed Tabla, Floyd Cardoz built a name for himself by bringing extraordinary flavors to everyday foods and using spice to turn a dish into something distinct and memorable. In Floyd Cardoz: Flavorwalla, readers will learn how Cardoz amplifies the flavors in more than 100 recipes. The simple addition of mustard seed and lemon makes grilled asparagus a revelation; slow-cooking salmon with fennel and coriander takes it to another level. But this husband and dad has the same challenges we do when cooking for our families, for guests, and for special occasions. Here he presents the recipes he cooks at home, where even the humblest of ingredients—such as eggs, steak, and vegetables—benefit from his nuanced use of spice and simple yet impeccable techniques, making this book an indispensable resource for getting weeknight dinners on the table or for cooking a holiday meal. The standout recipes include Grilled Lamb Shanks with Salsa Verde; Shrimp with Spicy Tomato Sauce; Coconut Basmati Pilaf; Roasted Cauliflower with Candied Ginger, Pine Nuts, and Raisins; and Cardoz's Tamarind Margaritas, of course.
About the Author
---
Floyd Cardoz is the celebrated New York City chef of Tabla, North End Grill, and his newest restaurant, Bombay Bread Bar. Cardoz attended culinary school and began his career in his native Bombay, India, where he recently opened the Bombay Canteen, his first restaurant in his home country. The four-time James Beard Award nominee won Season 3 of Bravo's Top Chef Masters and created the food for the feature film The Hundred-Foot Journey. He lives with his wife and two sons in northern New Jersey.
Praise For…
---
"Follow Cardoz's tips for excellent results every time."
—People magazine

"Home recipes with the bold flavor Cardoz is known for. His spiced chicken soup got me through winter."
—Food & Wine

"Cardoz . . . sees it as his mission to introduce spice, dimension, heat and boldness into everything we cook in our family kitchens. Especially when those family kitchens include kids. . . . [Flavorwalla's] recipes run the gamut from throw-together-­after-work meals to more project-oriented showstoppers. But it's the tactical side of his chef brain that will resonate with the everyday home cook. . . . He prizes efficiency, throwing tomorrow's vegetables into the oven with tonight's roast and swearing that the secret to fast weeknight meals is a gas grill (no pot to clean up) and a pressure-cooker, capable of yielding stews in under 30 minutes."
—The New York Times Book Review

"Satisfying and memorable cooking. . . . This is what you want to be eating."
—Eater

"Flavorwalla will help you get your cooking to the next level."
—Epicurious

 "Fabulous. . . . Flavors that excite, tempt and put real flair into your daily fare."
—BookPage, Top Pick in Cookbooks for April 2016

"Cardoz's emphasis is on flavor and the final product, rather than culinary showmanship. . . . A fun, fresh, and inspiring collection that deserves room on any self-respecting home cook's bookshelf."
—Publishers Weekly, starred review

"The range of recipe categories—from pantry- and freezer-friendly weeknight meals to intimate dinners for two—is impressive and perfectly tailored to satisfy a wide audience. Cardoz's dishes . . . demonstrate a facility with global flavors that few possess. VERDICT This is food to get excited about."
—Library Journal, starred review

"Spectacular results. . . . A very big, truly wonderful resource."
—Food Industry News

"Intensely flavored dishes. . . . Vivid seasonings and cross-cultural flavor combinations."
—Seattle Times
 
"While this is a book by a chef, it's not a 'chefy' cookbook. Recipes don't include a trillion ingredients or numerous sub-recipes. They're accessible, even with their sophisticated array of spices and chiles. The photos display attainable food, not restaurant-glossy shots. . . . I cooked my way through a half-dozen dishes with delicious results."
—Pittsburgh Post-Gazette
 
"A one-two flavor punch."
—Minneapolis Star Tribune

"Floyd has always emboldened me to explore new flavors; he'll do the same for you in this book, with delicious results."
—Dan Barber, chef and author of The Third Plate

"Flavorwalla is one of the best cookbooks in recent memory, and it's pure Floyd Cardoz, one of the most brilliant chefs working in America today. Floyd harnesses amazing tastes in even the simplest foods and utilizes seasonings and spices in truly unique ways. This is a book for all lovers of food, presented by a true master of his craft. Prepare to get your food game upped!"
—Andrew Zimmern, chef, teacher, and author

"Flavorwalla is a study in spices and flavors, and its roots are deep in Indian cooking and flavor profiles. However, what truly makes this cookbook shine is that it is, above all else, a heartfelt family cookbook."
—Marcus Samuelsson, chef, author, and restaurateur

"Floyd's book Flavorwalla unlocks the mystery of cooking with spices. I can't wait to share some of these recipes at home."
—Tom Colicchio, chef, author, and restaurateur

"Floyd's new book is sumptuous and spicy, yet the recipes are accessible and easy to make. His Indian heritage and work on the forefront of American fine dining make this book unique and extremely useful for any family seeking a global palate."
—Padma Lakshmi, host of Top Chef

"Floyd unlocks the secret to making the best Mexican-style corn on the cob you've ever eaten, traditional chimichurri from Argentina, and light dishes that pop with zippy Thai flavors we crave. Meanwhile, Floyd's Indian heritage underpins everything he does. Top Chef Master? Yes, he absolutely is."
—Curtis Stone, chef and owner, Maude restaurant