Mallmann on Fire: 100 Inspired Recipes to Grill Anytime, Anywhere (Hardcover)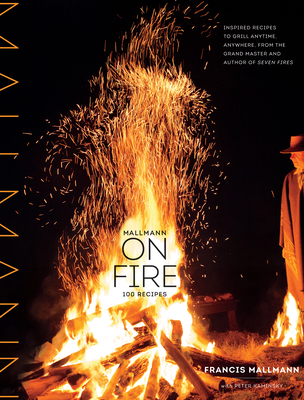 $40.00

Usually Ships in 1-5 Days
Description
---
Featured on the Netflix documentary series Chef's Table

"Elemental, fundamental, and delicious" is how Anthony Bourdain describes the trailblazing live-fire cooking of Francis Mallmann. The New York Times called Mallmann's first book, Seven Fires, "captivating" and "inspiring." And now, in Mallmann on Fire, the passionate master of the Argentine grill takes us grilling in magical places—in winter's snow, on mountaintops, on the beach, on the crowded streets of Manhattan, on a deserted island in Patagonia, in Paris, Brooklyn, Bolinas, Brazil—each locale inspiring new discoveries as revealed in 100 recipes for meals both intimate and outsized. We encounter legs of lamb and chicken hung from strings, coal-roasted delicata squash, roasted herbs, a parrillada of many fish, and all sorts of griddled and charred meats, vegetables, and fruits, plus rustic desserts cooked on the chapa and baked in wood-fired ovens. At every stop along the way there is something delicious to eat and a lesson to be learned about slowing down and enjoying the process, not just the result.
About the Author
---
Francis Mallmann, author of Seven Fires and Mallmann on Fire, is the reigning star of food television in the Spanish-speaking world, and the most famous and popular chef in South America. His restaurants include Siete Fuegos at the Vines Resort & Spa in Argentina's wine country; Patagonia Sur in Buenos Aires; El Garzón in Uruguay; 1884 Restaurante in Mendoza, Argentina (named one of Latin America's 50 Best Restaurants); and Los Fuegos in Miami. USA Today and the Times (London) have named his restaurants among the top 10 places to eat in the world. Most recently, Mallmann was the subject of the Netflix documentary series Chef's Table.
Peter Kaminsky is the author and coauthor of many books, including Pig Perfect, Culinary Intelligence, and Green Fire, Seven Fires, and Mallmann on Fire (with Francis Mallmann). He is a longtime contributor to Food & Wine and a former columnist for the New York Times and New York magazine. He was managing editor of National Lampoon. He lives in Brooklyn, New York.
Praise For…
---
"Culinary genius. . . . The 100 recipes are, by and large, flavor bombs that are relatively easy to put together . . . producing delicious, beautiful dishes."
—Wall Street Journal
 
"Simple-yet-ingenious takes on vegetables."
—Fine Cooking
 
"Primal, fascinating and terribly elegant stuff."
—Houston Chronicle
 
"The story delivers the very heart of Mallmann's message—use a few fresh ingredients and the proper application of fire to create a deeply satisfying meal."
—Austin Chronicle

"Make[s] Mallmann's larger-than-life approach to outdoor cooking accessible on a household scale. . . . This beautiful book is both travelogue and outdoor cooking handbook. If you find yourself tamping down feelings of envy about Mallmann's footloose, relaxed yet exciting lifestyle, you won't be alone. Just face it. We can't all grill fish on a remote beach in Patagonia. But we can let Mallmann help us do it in our own back yards."
—Miami Herald

"He's the master of smoke and char."
—Dan Barber

"No one grills better! Francis is a purist and an inspiration."
—Alice Waters