Mourad: New Moroccan (Hardcover)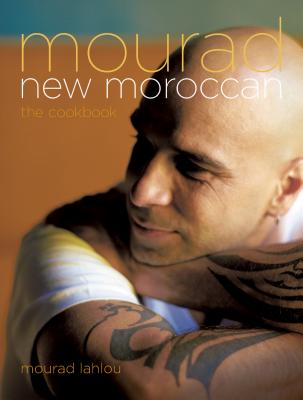 Description
---
A soulful chef creates his first masterpiece

What Mourad Lahlou has developed over the last decade and a half at his Michelin-starred San Francisco restaurant is nothing less than a new, modern Moroccan cuisine, inspired by memories, steeped in colorful stories, and informed by the tireless exploration of his curious mind. His book is anything but a dutifully "authentic" documentation of Moroccan home cooking. Yes, the great classics are all here—the basteeya, the couscous, the preserved lemons, and much more. But Mourad adapts them in stunningly creative ways that take a Moroccan idea to a whole new place. The 100-plus recipes, lavishly illustrated with food and location photography, and terrifically engaging text offer a rare blend of heat, heart, and palate.
About the Author
---
Arriving in California from Marrakesh in 1985 to go to college, a homesick young Mourad Lahlou began to channel memories of watching his mother and aunts as they prepared traditional Moroccan dishes at home. He started to cook for himself, then for friends, and then for friends of friends. He completed a master's degree in macroeconomics, but the lure of the kitchen pulled him from his doctorate, and he opened his first restaurant, in San Rafael, California, in 1997. He then opened the decidedly modern Aziza, named after his mother, in San Francisco in 2001, to international acclaim. In 2009, he won Iron Chef America by the largest margin in the history of the show.
Praise For…
---
Winner, Northern California Independent Booksellers Book of the Year Award for Food Writing

Best Cookbooks of the Year, Good Morning America

Best Books of the Year, Publishers Weekly

"Intoxicating."
—San Francisco Chronicle
 
"Every once in a while, a fabulous cookbook shows up that takes you into an entirely new world. . . . Mourad Lahlou's beautiful debut cookbook, Mourad: New Moroccan, belongs in this exalted category.
—BookPage
 
"Lahlou takes Moroccan classics, such as couscous and preserved lemons, and adapts them in new and unusual ways."
—Publishers Weekly, starred review