Ad Hoc at Home (The Thomas Keller Library) (Hardcover)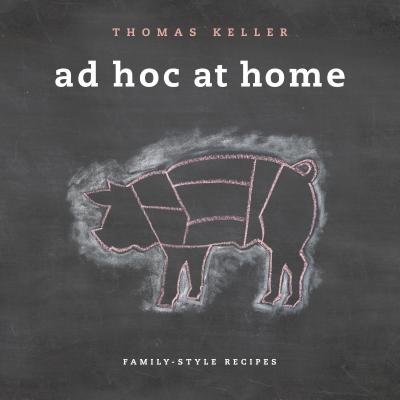 $60.00
Email or call for price
Description
---
New York Times bestseller

IACP and James Beard Award Winner

"Spectacular is the word for Keller's latest . . . don't miss it."
—People
 
"A book of approachable dishes made really, really well."
—The New York Times

Thomas Keller shares family-style recipes that you can make any or every day. In the book every home cook has been waiting for, the revered Thomas Keller turns his imagination to the American comfort foods closest to his heart—flaky biscuits, chicken pot pies, New England clam bakes, and cherry pies so delicious and redolent of childhood that they give Proust's madeleines a run for their money. Keller, whose restaurants The French Laundry in Yountville, California, and Per Se in New York have revolutionized American haute cuisine, is equally adept at turning out simpler fare.

In Ad Hoc at Home—a cookbook inspired by the menu of his casual restaurant Ad Hoc in Yountville—he showcases more than 200 recipes for family-style meals. This is Keller at his most playful, serving up such truck-stop classics as Potato Hash with Bacon and Melted Onions and grilled-cheese sandwiches, and heartier fare including beef Stroganoff and roasted spring leg of lamb. In fun, full-color photographs, the great chef gives step-by-step lessons in kitchen basics— here is Keller teaching how to perfectly shape a basic hamburger, truss a chicken, or dress a salad. Best of all, where Keller's previous best-selling cookbooks were for the ambitious advanced cook, Ad Hoc at Home is filled with quicker and easier recipes that will be embraced by both kitchen novices and more experienced cooks who want the ultimate recipes for American comfort-food classics.
 
About the Author
---
Thomas Keller is the author of The French Laundry Cookbook, Bouchon, Under Pressure, Ad Hoc at Home, and Bouchon Bakery. He is the first and only American chef to have two Michelin Guide three-star-rated restaurants, The French Laundry and per se, both of which continue to rank among the best restaurants in America and the world. In 2011 he was designated a Chevalier of the French Legion of Honor, the first American male chef to be so honored. In 2017, as part of the Ment'or Foundation—established with chefs Jérôme Bocuse and Daniel Boulud—Keller led Team USA to win gold at the Bocuse d'Or competition in Lyon, France, for the first time ever.
Praise For…
---
New York Times bestseller

"Accessible and dazzlingly beautiful. . . . This collection is what legions of Keller fans have been waiting for, a book that allows them to replicate the merest glimmer of his culinary genius in their own homes."
—Publishers Weekly, starred review
 
"Spectacular is the word for Keller's latest . . . don't miss it."
—People
 
"Fun and approachable."
—Chicago Tribune
 
"A book of approachable dishes made really, really well."
—The New York Times
 
"High-class down-home cooking."
—New York Post
 
"This is real, uncomplicated home cooking. [Keller] offers everything your could want . . . and lots of bright ideas that will make you a much smarter cook."
—Fine Cooking