Round Zero: Inside the NFL Draft (Paperback)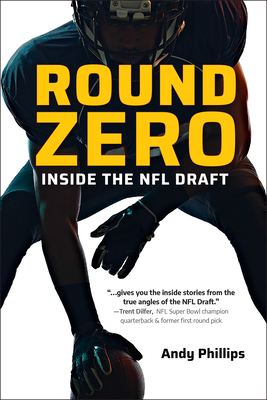 $17.95

Usually Ships in 1-5 Days
Description
---
The must-read comprehensive inside look into the NFL Draft, football's most fascinating and integral piece of its puzzle.

Millions of people watching globally, hundreds of hopeful athletes and their families on pins and needles waiting, and billion-dollar football franchises making strategic decisions--the NFL Draft is a BIG deal. Round Zero is a close look at one of sport's most thrilling procedure.

As a player for the Green Bay Packers and writer for the Pro Football Hall of Fame, Andy Phillips fills Round Zero with revealing anecdotes and unexpected insights from coaches, general managers, agents, players, and more leading up to and during the Draft itself.

This behind-the-scenes look aims to capture the big event beyond its grand pageantry and multi-million-dollar deals.
About the Author
---
Andy Phillips is a contributing writer at the Pro Football Hall of Fame. He is a former 2x Division-1 Football Captain and played as an offensive lineman in four preseason NFL games with the Green Bay Packers.
Praise For…
---
"Andy fields stories from some of the greatest figures in NFL history to show how unique the pre-Draft process is. Round Zero will give you the inside stories from the true angles of the NFL Draft." —Trent Dilfer, Super Bowl champion quarterback and former first round pick

"Round Zero pulls the curtain back and leaves no stone unturned. Fans get an inside look at every angle and situation the Draft has to offer." —Dave Heeke, Vice President & Director of Athletics, University of Arizona

"To understand the Draft from the inside requires the insiders' knowledge and perspective Andy Phillips reveals in Round Zero." —Rich Desrosiers, Chief Communications & Content Officer, Pro Football Hall of Fame

"Andy goes deep to demystify the experience and tell some of the best stories I've read about the Draft. Round Zero offers a real-life glimpse into the Draft to provide the full picture." —Ian Rapoport, NFL Network Insider