Your Land and Mine: Evolution of a Conservationist (Hardcover)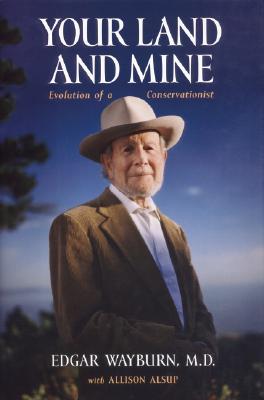 Description
---
Edgar Wayburn may be the least-known yet most successful defender of the American landscape. A tenacious and tireless leader of the Sierra Club since the 1940s, he had a central role in the creation of Redwoods National Park and the Golden Gate National Recreation Area, and in the passage of the Alaska National Interest Lands Act. For his visionary achievements, he was honored with the Albert Schweitzer Prize for Humanitarianism in 1995 and the Presidential Medal of Freedom in 1999.
Not a conventional autobiography, Your Land and Mine focuses on Wayburn's key conservation campaigns, some of the most crucial of the 20th century, and the fascinating cast of characters that populated them. His accounts of hard-fought battles are full of telling details and lively portraits of legislators such as Senator Henry Scoop" Jackson and Representative Phil Burton; land officials such as JFK's Interior Secretary Stewart Udall; and countless other personalities in the ongoing drama of preserving our nation's natural heritage.
Illustrated with rare photographs from Wayburn's personal collection, Your Land and Mine is required reading for anyone interested in the growth of America's conservation movement. It is also an engaging portrait of an important and inspiring American life.