Renovation of the Heart for Students: Putting on the Character of Christ (Paperback)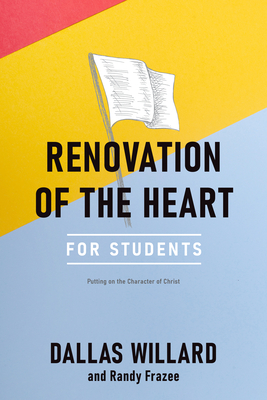 $15.99

Usually Ships in 1-5 Days
Description
---
This practical student edition of Dallas Willard's classic Renovation of the Heart helps you enjoy the greatest adventure in life: to follow Jesus and to become more like him.

To be transformed--like a caterpillar into a butterfly--opens up a whole new world of possibility. To be changed from the inside out, into a life lived as though Jesus himself were living it, is good for you and healing for the world around you.

Renovation of the Heart for Students offers a vision for life change that's not a matter of managing sin but of giving yourself increasingly to God--from your heart to your mind to your body to your relationships. Experience God in a full, true, and intimate way. See your world through different eyes. Walk in the assurance that God is with you and for you. Love your neighbor as yourself.

Renovation of the Heart for Students brings insights from one of the most important thinkers of the past century into your everyday life and includesengaging activities and exercisesreflections for deeper insightprayers tailored to today's studentsprompts for group use
Experience the joy of life with God in the company of your friends with Renovation of the Heart for Students.
About the Author
---
DALLAS WILLARD is a professor in the School of Philosophy at the University of Southern California. He is the author of several books, including Renovation of the Heart and Christianity Today's Book of the Year in 1999, The Divine Conspiracy. Dallas and his wife live in California. RANDY FRAZEE is senior pastor of Pantego Bible Church in Fort Worth, Texas, a church known for its work in spiritual formation and community. He's the author of The Connecting Church, Making Room for Life, and The Christian Life Profile Assessment Tool.