The Teen Guide to Global Action: How to Connect with Others (Near & Far) to Create Social Change (Paperback)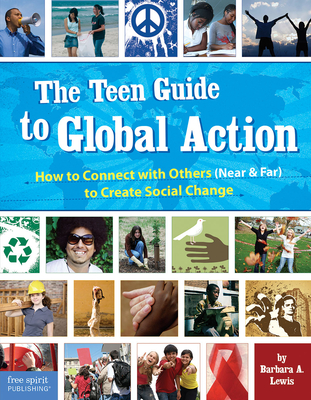 $14.99

Usually Ships in 1-5 Days
Description
---
Here's a book for every teen who wants to get involved in service and social change. Featuring profiles of real "Difference Makers" and practical tools readers can use to support causes they are passionate about, The Teen Guide to Global Action provides everything youth need to make a difference at the local, national, or global level.

From suggestions for reducing hunger and poverty and protecting human rights to environmental projects and efforts to promote peace, this book provides know-how teens can use to make the world a better place. There's also a healthy dose of inspiration. Whether it's reading about Zach Hunter, who started an organization devoted to ending modern-day slavery, or Janine Licare, who is helping protect Costa Rican rain forests, teens reading these and dozens of other stories will realize they don't have to wait to become an adult to change the world.

Upbeat, practical, and highly motivating, The Teen Guide to Global Action is a go-to source teens can use to put their volunteer spirit into practice and make an impact in their world.
About the Author
---
Barbara A. Lewis is a former public school teacher and sought-after speaker. She has received many awards for excellence in writing, teaching, and leading youth in service projects and social action. She and her students were honored for community contributions by President Clinton and have been featured nationally in many magazines and newspapers, in The Congressional Record, and on television. Barbara's books also include What Do You Stand For? (For Kids and For Teens), Kids with Courage, The Kid's Guide to Social Action, and The Kid's Guide to Service Projects. She lives in Park City, Utah.
Praise For…
---
"An excellent starting point for the many youth who want to turn their social concerns into social change." —Silvia Blitzer Golombek, Ph.D., senior vice president, Youth Service America (YSA)
YALSA Popular Paperbacks for Young Adults Selection
Skipping Stones Honor Award
"This book belongs in the hands of every student who wants to change the world."
— Benjamin Quinto, founder and executive director, Global Youth Action Network (GYAN)
"Worldwide, young people are making positive changes by taking action. Their stories and dozens more are collected in one book that will inspire readers and provide them with tools they can use to take action themselves."
— Association of Booksellers for Children, ABC Toolbox
"
The Teen Guide to Global Action
is an exciting new book that features stories of youth from over 30 countries who are making a difference and taking action on local and global issues. The book includes a rich and varied menu of opportunities for service, fast facts, hands-on activities, user-friendly tools, and up-to-date resources kids can use to put their own volunteer spirit into practice."
— Minnesota Alliance for Youth
"
The Teen Guide to Global Action
by Barbara A. Lewis is the perfect little book to hand to a motivated teenager who wants to make a difference. Hip, up to date, and easy to read . . . this book would be a great research reference for a geography or civics class and very useful to a high school environment or social issues club."
— Green Teacher
"The Teen Guide to Global Action, by Barbara A. Lewis, tells the story of teen activists like Zach Hunter, who started Loose Change to end modern slavery; Janine Licare, who is helping to stop the destruction of rain forests; and Zhura Bahman, who started a foundation in her native Afghanistan to help girls with education."
— Teaching Tolerance