Man with the Killer Smile: The Life and Crimes of a Serial Mass Murderer (North Texas Crime and Criminal Justice Series #13) (Hardcover)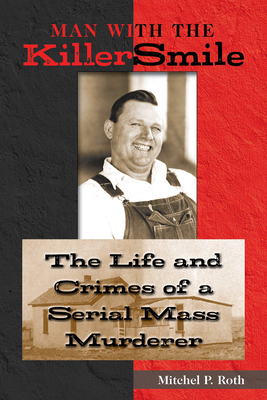 $34.95

Usually Ships in 1-5 Days
Other Books in Series
This is book number 13 in the North Texas Crime and Criminal Justice Series series.
Description
---
On a cold, windy December night in 1926, hell was unleashed on a tenant farm near Farwell, the last Texas town before the New Mexico border. Prone to the bottle and fits of rage, the burly man with the smiling blue eyes was in no mood to quarrel with his third wife over his bootleg whisky and sexual abuse of his stepdaughter. He went from room to room in the house, killing his wife and each child with primitive cutting tools and his bare hands. By the time he concluded his bloody work, he had taken the lives of nine family members ranging in age from 2 to 41, committing what one local reporter called "the blackest crime" in the history of the West Texas Panhandle.
Husband, father, uncle, embezzler, serial mass murderer, philanderer, child molester, convict, and military deserter, George Jefferson Hassell was many things to many people, most of them bad. His pattern of familicide crime had begun in 1917, when he slaughtered his common-law wife and her three kids in Whittier, California. Later, in Texas, he married his brother's wife and became stepfather to her eight children.
Using Hassell's confessions and his many interviews with reporters as well as the trial transcripts and reminiscences of those who crossed paths with him in Texas, Oklahoma, and California, Mitchel P. Roth presents the first comprehensive account of the life and crimes of one of the least known multiple murderers in Texas, let alone American, history. Roth situates Hassell's saga within the 1920s Texas criminal justice system, including the death penalty, which Hassell ultimately received from Old Sparky, the electric chair at Huntsville.
About the Author
---
MITCHEL P. ROTH is Professor of Criminal Justice and Criminology at Sam Houston State University in Huntsville, Texas. He is the author of numerous books, including Power on the Inside: A Global History of Prison Gangs; Fire in the Big House: The Worst Prison Disaster in American History; A History of Crime and the American Criminal Justice System; An Eye for an Eye: A Global History of Crime and Punishment; and Convict Cowboys: The Untold History of the Texas Prison Rodeo (UNT Press).
Praise For…
---
"Roth brings to life a real Jekyll and Hyde from 1920s Texas—the life and crimes of a murderer like no other.  George J. Hassell was a serial killer, mass murderer, and multi-family annihilator, all wrapped up in one despicable package. This case will be of interest to readers of true crime and popular history."—John Douglas, Unit Chief for the FBI's National Center for the Analysis of Violent Crime and inspiration for the hit television series Mindhunter
 
"This story is the first of its kind (that I am aware of) that blends social science research, history, and the psychological traits of a killer like George Hassell. His crimes and the documentation of them in this work make this offender unique in the annals of American history and separates this book from its competition. Most intriguing and innovative is the way that the author blends in the extant literature on serial and mass murders as well as the psychopathy of individuals like Hassell."—Stephen T. Holmes, coauthor of Serial Murder and Mass Murder
 
"George Hassell is unique: a mass murderer and a serial killer. This story will appeal to true crime audiences and capture the interest of students of crime and criminal justice as a reliable case study."—Gary M. Lavergne, author of A Sniper in the Tower: The Charles Whitman Murders and Bad Boy from Rosebud: The Murderous Life of Kenneth Allen McDuff
 
"In the early 1900s, George Hassell murdered thirteen people (two wives, eleven stepchildren) in particularly brutal fashion. The few previously available 'facts' about the Texas Bluebeard were mostly erroneous. Now, Man with the Killer Smile sets the record straight as acclaimed author and historian Mitchel P. Roth demonstrates once again that painstaking research combined with masterful storytelling results in mesmerizing reading."—Jeff Guinn, author of Go Down Together: The True, Untold Story of Bonnie and Clyde and Manson: The Life and Times of Charles Manson

"No doubt about it, we're lucky to meet George J. Hassell in the pages of Mitchel Roth's fascinating, deeply researched book, rather than in real life a century ago. This Texas serial killer/mass murderer/family annihilator, all in one, had slipped into the mist of yesteryear, until Roth's historical detective work restored him to a place of prominence in the state's criminal hall of infamy. We Texans have had more than our share of ruthless killers—John Wesley Hardin, Bill Longley, Bonnie and Clyde, Dean Corll, and Kenneth Allen McDuff come to mind—but Hassell is arguably the worst of the worst."—Joe Holley, Houston Chronicle columnist