Wordcatcher: An Odyssey into the World of Weird and Wonderful Words (Paperback)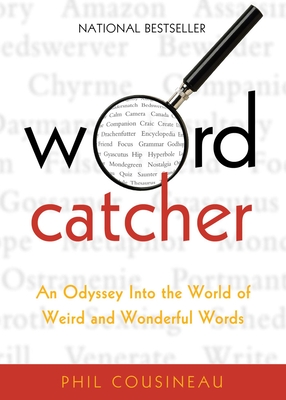 Description
---
Who knew that the great country of Canada is named for a mistake? How about "bedswerver," the best Elizabethan insult to hurl at a cheating boyfriend? By exploring the delightful back stories of the 250 words in Wordcatcher, readers are lured by language and entangled in etymologies. Author Phil Cousineau takes us on a tour into the obscure territory of word origins with great erudition and endearing curiosity. The English poet W. H. Auden was once asked to teach a poetry class, and when 200 students applied to study with him, he only had room for 20 of them. When asked how he chose his students, he said he picked the ones who actually loved words. So too, with this book -- it takes a special wordcatcher to create a treasure chest of remarkable words and their origins, and any word lover will relish the stories that Cousineau has discovered.
About the Author
---
Phil Cousineau is a bestselling author, editor, photographer, award-winning documentary filmmaker, adventure travel leader, and independant scholar who lectures around the world on a wide range of topics from mythology, mentorship, and soul. His books include The Art of Pilgrimage, Soul Moments, Riddle Me This, and The Soul Aflame. A protege of the late Joseph Campbell, Cousineau is also the author of The Hero's Journey: Joseph Campbell on His Life and Work. He lives in San Francisco, California.
Praise For…
---
"If you are a writer, wordsmither or even just a wannabe, this book is an awe-inspiring reference to guide you through those scary moments of finding just the right word to woo your readers and show-off your knowledge panache." --Portland Book Review
"Cousineau takes us into the obscure territory of word origins with great erudition and endearing curiosity." --Writer's Journal
"Phil Cousineau is a word wizard and his book, Wordcatcher, is a delightful adventure into a magical world. As I read his amazing etymological explanations of words from eldritch to floccinaucinihilipilification to lagniappe, I begin to understand why the Bible says 'In the beginning was the Word.' Phil has made clear that words don't merely describe reality. They create it." --Deepak Chopra, author of The Ultimate Happiness Prescription
"Stake out a claim next to the standard dictionary you use for this less pedantic companion. It contains fewer words but sends up Fourth of July skyrockets on all of them. But caveat emptor, readers beware! Cousineau's love affair with words is contagious and you are likely to end up lovesick with words yourself." --Huston Smith, author of The World's Religions and Tales of Wonder
"A book that allows us to remember the genius of language-- to see, feel and, it seems, even "taste" the living-ness and poetry hidden within these many common and uncommon words. A delicious book." --Jacob Needleman, author of What Is God?
— Reviews
"I am awed by Phil Cousineau's scholarship and the overall view he has of inner matters. He has a genius for the soulful dimensions of words, and a rare intelligence for communicating the numinous dimension of language. "Wordcatcher" will grace the lives of all who read it, and inspire them to respect, even revere words as much as its author does." --Robert A. Johnson, author of
He, She, and A Slender Thread
— Reviews
"Phil Cousineau's
Wordcatcher
is a wonderful meditation on words that can be read from beginning to end if you are obsessed with speech, greedy for mountain air, and into enlightened verbal play. Not a dry lexical listing, each word Cousineau chooses sings with cellos, vagabonds through tongues and history, and bounces like a balloon on the moon, and as high as his quirky imagination takes us. Compelled reading for residence in the ancient synagogue of the word." --Willis Barnstone, author of the
Restored New Testament
and
Ancient Greek Lyrics
— Reviews
"
Wordcatcher
stirs up...the delight that comes with finding the unexpected embedded within the familiar" --ForeWord Reviews
— Reviews
"All throughout my delightful role as Watson to Cousineau's Holmes (with great panache, of course), I felt the passion, the anticipation of joy and the rhapsody of the chase as I discovered the oftentimes secret origins and meanings of the most bewildering, the most astonishing, the most completely absurd, and even the most sardonic and contemptuous of words, and, finally, the wise and witty." --Christina Forsythe, Fresno Book Review
"Whether an unabashed wordnerd or a casual reader, a dictionary hound or someone looking to expand your own personal lexicon, there is plenty to interest you in Wordcatcher." --Glenn Dallas, Sacramento Book Review
"[Cousineau] is continually pushing the envelope in finding interesting topics to scrutinize" --Helene Vachet, New Perspectives Magazine
"Stake out a claim next to the standard dictionary you use for this less pedantic companion. It contains fewer words but sends up Fourth of July skyrockets on all of them. But caveat emptor, readers beware! Cousineau's love affair with words is contagious and you are likely to end up lovesick with words yourself" --Huston Smith
"Wordcatcher allows us to remember the genius of language--to see, feel and, it seems, even "taste" the living-ness and poetry hidden within these many common and uncommon words. A delicious book." --Jacob Needleman
— Reviews