Lucid Dreaming, Plain and Simple: Tips and Techniques for Insight, Creativity, and Personal Growth (Paperback)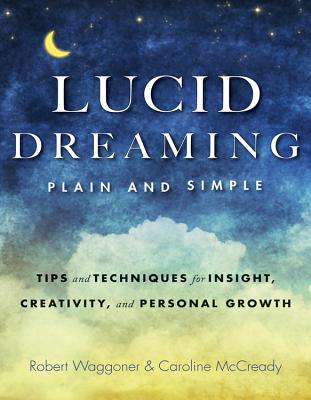 $19.95
Email or call for price
Description
---
Aimed at beginners, Lucid Dreaming, Plain and Simple shows the reader how to enter and fully experience the lucid dreaming. Among the amazing things Waggoner and McCready teach readers are how to:

consciously decide what actions to perform
explore dream space (or the contents of your subconscious)
interact with dream figures
conduct personal and scientific experiments
be free of waking state limitations (e.g., flying, walking through walls, and discovering creative solutions to waking issues)
This book approaches lucid dreaming from a more cognitive psychology stance, and focuses more on how to lucid dream and how to use lucid dream techniques for personal growth, insight and transformation. Whether a reader is completely new to lucid dreaming or someone who has experienced that incredible moment of realizing, "This is a dream!", readers will learn valuable tips and techniques gleaned from scientific research and decades of experience to explore this unique state of awareness more deeply.
About the Author
---
Robert Waggoner is President-Elect of the International Association for the Study of Dreams (IASD) and a summa cum laude graduate of Drake University with a degree in psychology. He is also the co­founder and editor of the online journal, The Lucid Dream Exchange (dreaminglucid.com), the only ongoing publication devoted specically to lucid dreaming. He is a frequent speaker at national and international dream conferences.   Caroline McCready teaches art, meditation, lucid dreaming and creativity workshops in London. As a practicing artist she has exhibited in the UK and Australia and has sold her art pieces globally. She has a BA honors degree from the University of Warwick, studied Sculpture in London and has an SQC in Psychology from Oxford Brookes University. For more information visit www.carolinemccready.com.