An Instance of the Fingerpost: A Novel (Paperback)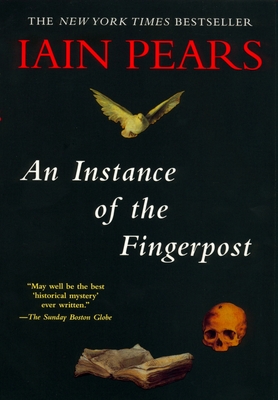 Description
---
A national bestseller and one of the New York Public Library's Books to Remember, An Instance of the Fingerpost is a thrilling historical mystery from Iain Pears.

"It is 1663, and England is wracked with intrigue and civil strife. When an Oxford don is murdered, it seems at first that the incident can have nothing to do with great matters of church and state....Yet, little is as it seems in this gripping novel, which dramatizes the ways in which witnesses can see the same events yet remember them falsely. Each of four narrators—a Venetian medical student, a young man intent on proving his late father innocent of treason, a cryptographer, and an archivist—fingers a different culprit...an erudite and entertaining tour de force." —People

Iain Pears's The Dream of Scipio and The Portrait are also available from Riverhead Books.
About the Author
---
Iain Pears was born in 1955. Educated at Wadham College, Oxford, he has worked as a journalist, an art historian, and a television consultant in England, France, Italy, and the United States. He is the author of seven highly praised detective novels, a book of art history, and countless articles on artistic, financial, and historical subjects, as well as the international bestseller An Instance of the Fingerpost. He lives in Oxford, England.
Praise For…
---
"May well be the best 'historical mystery' ever written."—The Sunday Boston Globe
 
"Ingenious."—The Philadelphia Inquirer
 
"[A] crafty, utterly mesmerizing intellectual thriller…Don't miss it." —The Washington Post Book World
 
"If you liked Umberto Eco's The Name of the Rose, you should run to buy Iain Pears's lavishly erudite historical mystery." —The New York Times
 
"Fascinating…quite extraordinary…elevates the murder mystery to the category of high art." —Los Angeles
 
"Extraordinary…this thriller brings not merely a huge cast of characters but a whole century vividly to life." —Newsweek
 
"[A] novel that will have you sitting up all night and calling in sick the next day.  It's that hard to put down." —Houston Chronicle
 
"Enthralling." —San Francisco Chronicle Book Review