Start Your Own Medical Practice: A Guide to All the Things They Don't Teach You in Medical School about Starting Your Own Practice (Open for Business) (Paperback)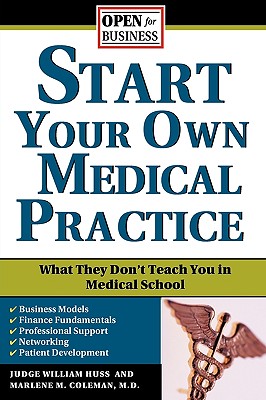 $24.99
Email or call for price
Description
---
After years of school and maybe even after some years of practice, you are ready to do it on your own.
Running a profitable business takes more than just being a great doctor. Start Your Own Medical Practice provides you with the knowledge to be both a great doctor and a successful business owner.
Whether you are looking to open a single practice office or wanting to go into partnership with other colleagues, picking the right location, hiring the right support staff and taking care of all the finances are not easy tasks. With help from Start Your Own Medical Practice, you can be sure you are making the best decisions for success.
Don't let a wrong choice slow down your progress. Find advice to:
Create a Business Plan
Manage the Office
Raise Capital
Bill Your Patients
Market Your Practice
Build a Patient Base
Prevent Malpractice Suits
Keep an Eye on the Goal
With checklists, sample letters and doctor's office forms, Start Your Own Medical Practice teaches you all the things they didn't in medical school and gives you the confidence to go out and do it on your own.
About the Author
---
Judge William Huss is a full-time mediator and arbitrator, overseeing individual, institutional, and corporate cases. He was named one of the Master Mediators by Verdict Magazine. Judge Huss was on the Los Angeles Superior Court, presiding over both civil and criminal trials. He also served on the Los Angeles Superior Court Executive Committee and was the Chair of the Education Subcommittee.
He was a cofounder of an Alternative Dispute Resolution company and served as its president from 1996–2001. He has successfully conducted over 2,800 mediations on the subjects of construction, business, employment, personal injury, eminent domain, malpractice, real estate, homeowners association, and many others.
Before becoming a judge, he founded a law firm in downtown Los Angeles, and he is now Of Counsel to the firm. Having been an associate and partner in small, medium, and large firms, as well as founding one himself, Judge Huss is well-qualified to share insights and experiences that will benefit lawyers who want to start a law firm themselves.
Dr. Marlene M. Coleman has lived in a condominium community in Los Angeles for the past twenty-five years. She has held positions as a Committee and Board member, as well as served two terms as President of the Board of her Community Association—having turned it around from near disaster. She is also actively involved in both state and national Community Association organizations. Dr. Coleman is Associate Clinical Professor of Family Medicine at the University of Southern California Medical School, an Attending Physician in College Health at the California Institute of Technology in Pasadena, California, and a pediatrician in private practice in Newport Beach, California.