Rumi's Little Book of the Heart (Paperback)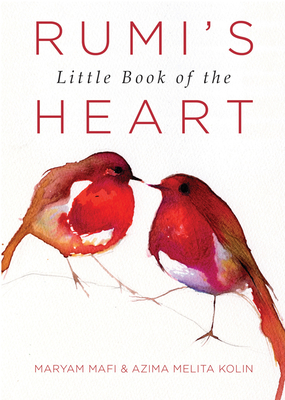 $12.95

Usually Ships in 1-5 Days
Description
---
In this slender volume, Rumi explores the joy of friendship and the agony of loss. These poetic meditations on the most profound of human relationships are like crystals: they sparkle with the many hues of the rainbow and contain worlds within, capturing us with their mystery.
Here are poems that cause us to reflect on our own relationships, to experience again the intensity of friendship, the ache of loss, and the profundity of immersion.
This is a book for poetry lovers, Rumi fans, and all gift-giving occasions; a book to treasure and to share.
Previously published in hardcover as Whispers of the Beloved.
Imitating others,
I failed to find myself
I looked inside and discovered
I only knew my name.
When I stepped outside
I found my real Self.
Replaces ISBN 9781571746825.
About the Author
---
Maryam Mafi was born and raised in Iran.She graduated from Tufts University in 1981, where she studied Sociology and Literature. While reading for her Master's degree in International Communications at American and Georgetown Universities she began translating Persian literature and has been doing so ever since. Reading Rumi's poetry, she says, has led her to a 're-education' in her own language and a new appreciation of her spiritual heritage.   Melita Kolin is a poet, musician and an artist based in Hampstead.
Praise For…
---
"These carefully selected and beautifully translated little gems from Rumi speak to the deepest levels of relationship. Whether that relationship is between friends, between student and teacher, or with the Divine, they spark feelings of longing (There is a way from your heart to mine), abandonment (The rose has lost its petals but the thorn is left behind), and reunion (Hope comes in hopelessness). Ringing with the sound of sacred mystery, the simplicity of Rumi's words make them even more potent. Let us eat a little from the hand of God." --Anna Jedrziewski, Retailing Insight
— Reviews