Midnights with the Mystic: A Little Guide to Freedom and Bliss (Paperback)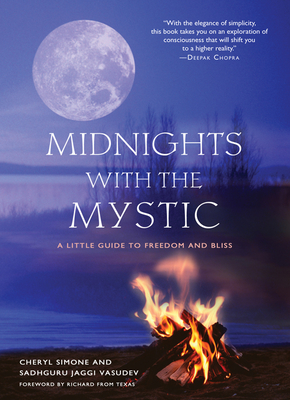 $20.00

Usually Ships in 1-5 Days
Description
---
"With the elegance of simplicity, this book takes you on an exploration of consciousness, that will shift you to a higher reality." —Deepak Chopra

Constructed around a series of late night conversations around a camp fire between Cheryl Simone and Sadhguru Vasudev on an Island in the middle of a Western North Carolina lake near her mountain home, Midnights with the Mystic is the most thorough exposition of the teachings of India's most sought after mystic. Sadhguru challenges us to embrace the possibility that to each of us is available a higher realm of reality, a peak of consciousness; an entrée into the realm of freedom and bliss.
Simone, an Atlanta real estate developer, was the typical baby boomer in search of an authentic spiritual experience. Professionally successful, yet spiritually arid, she discovered a way into what she was looking for in the teachings of Sadhguru. Concrete and down-to-earth, Midnights with the Mystic both provides readers with an introduction to profound spiritual teaching and a personal glimpse of a charismatic guru.
About the Author
---
Sadhguru is a yogi, a mystic, and the founder of the Isha Foundation, an all-volunteer organization engaged in large-scale humanitarian and environmental projects. He is the founder of the Isha Yoga Center in Coimbatore, India, and the Isha Institute of Inner Sciences on the Cumberland Plateau in central Tennessee.
Praise For…
---
"With the elegance of simplicity, this book takes you on an exploration of consciousness, that will shift you to a higher reality."
— Deepak Chopra, author of The Third Jesus: The Christ We Cannot Ignore
"Extraordinary wisdom, the insight and clarity of logic, the language of a poet. If you read this powerful book, you will discover who you really are, who we all are."
— Neale Donald Walsch, author of Conversations with God
"When you read this book, I know you'll resonate with its truths, be touched in ways that can trigger your own transformation, and realize, as I have, that a peaceful, fulfilling, and vibrant life is available for one and all who open themselves to receive the abundant Grace of this unparalleled being."
— Richard from Texas (aka Richard Voigt)
"No lofty thoughts, just the truth. Cheryl Simone and Sadhguru not only tell it like it is, they show us how make use of this information to expand, enjoy, and appreciate our lives."
— Dr. Joe Vitale, author of The Key
"Sadhguru's piercing logic and wit reveal the true nature of life, while the author's riveting personal journey reveals Sadhguru--the person and the science that frames his life's work. The book makes a compelling argument for why every person should experience what Sadhguru has to offer."
— Ravi Venkatesan, CEO Microsoft, India