Larry Gets Lost in New York City (Hardcover)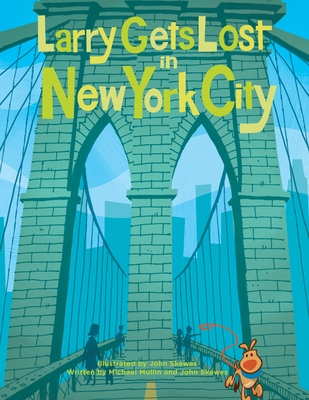 $17.99
Email or call for price
Description
---
Follow Larry as he ping-pongs around New York City, hitting all five boroughs in a day, visiting the places and things that make the city what it is today—from Times Square, Wall Street, and Radio City Music Hall to Coney Island, Madison Square Garden, and Central Park. Along the way he loses Pete and his family in the city's famous subway system. Finally after an exhausting day of adventures, Larry is reunited with his family at the top of the Empire State Building. This book takes young readers on a dog's-eye view of the greatest city in the world. Sidebar entries enhance the story, offering fascinating factoids about the places Larry visits.
About the Author
---
John Skewes is a professional illustrator living in Seattle. He began work as a product designer and character artist for Disney Consumer Products before leaving to start his own company, Retrodyne Industries in 2001. His clients include Warner Bros., Hanna-Barbera, Fox, Pixar, and Simon & Schuster. As the creator and illustrator of the award-winning Larry Gets Lost™ children's book series, John has followed Larry from the southern tip of Texas to tiny Nome, Alaska, and been lost several times himself. He has illustrated over 20 children's books, including the Flintstones, Tom and Jerry, and Alvin and the Chipmunks.

Michael Mullin lives in LA, but grew up in New England, where all his sports allegiances remain. He is the author of the TaleSpins™ books for young adults: 8: The Previously Untold Story of the Previously Unknown 8th Dwarf, The Plight and Plot of Princess Penny, and the upcoming Jack'd.
Praise For…
---
"Larry's determined quest is only part of what makes this book–and the other books in the Larry Gets Lost series–so engrossing; there are also sidebars with fun facts about the New York landmarks Larry encounters, such as that the Metropolitan Museum of Art contains over two million artworks and that traders met on Wall Street as far back as the 1800s. Readers who haven't yet visited the city will finish this book with a pleasant bite from the travel bug."
—Margo Orlando Littell, Sacramento Book Review

"Larry's happy-go-lucky owners never seem to learn that they should leash Larry or leave him at home when they vacation, but Larry's temporary loss is our gain, giving us the opportunity to see the sights of big cities, and Michael Mullin's latest, Larry Gets Lost in New York City, is a wonderful beginner's tour of the Big Apple."
—Books for Kids blog
 
"Larry Gets Lost in New York City takes you on a fun, informative and colorful journey through New York City.  As Larry and Pete get one step closer to each other, you'll become that much more informed about the city you live in."
—Baby Meets City blog

"This is a first-rate lost and found journey. The book also offers stunningly bright retro-cartoon style illustrations, often from the perspective of Larry the dog that will appeal to all preschoolers."
—Park Ridge Library

"The story's colorful, retro-inspired illustrations bring the beloved city highlights to life, and make them seem magical again even to a jaded city kid who walks past them every day."
—Red Tricycle
 
"Taking a romp through the city doesn't have to be exhausting - just add it to your bedtime story ritual!"
—Red Tricycle
 
"These wonderful, easy-reading books for children of all ages highlights many of the wonderful things to do and see while traveling to these cities. Both armchair and actual travelers will relish getting lost with Larry."
—Cheryl Weems, Deschutes Public Library system, Bend Bulletin
 
"Informative tidbits coupled with the rhyming words of Michael Mullin make it a more enjoyable and educational read. Being lost and searching has never been this much fun, and in the end Larry and his owner Pete reunite to drive back home exhausted from all the excitement. They also take with them the promise of yet another cool adventure the next day."
—Kaye Cloutman, Sacramento Book Review