Aliens in the Backyard: Plant and Animal Imports Into America (Paperback)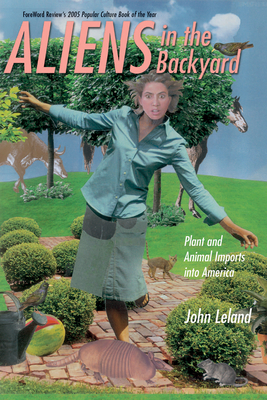 $21.99

Usually Ships in 1-5 Days
Description
---
A fresh look at the origins of our iconic immigrant flora and fauna, revealed with wit and reverence for nature
Aliens live among us. Thousands of species of nonnative flora and fauna have taken up residence within U.S. borders. Our lawns sprout African grasses, our roadsides flower with European weeds, and our homes harbor Asian, European, and African pests. Misguided enthusiasts deliberately introduced carp, kudzu, and starlings. And the American cowboy spread such alien life forms as cows, horses, tumbleweed, and anthrax, supplanting and supplementing the often unexpected ways "Native" Americans influenced the environment. Aliens in the Backyard recounts the origins and impacts of these and other nonindigenous species on our environment and pays overdue tribute to the resolve of nature to survive in the face of challenge and change.
In considering the new home that imported species have made for themselves on the continent, John Leland departs from those environmentalists who universally decry the invasion of outsiders. Instead Leland finds that uncovering stories of alien arrivals and assimilation is a more intriguing--and ultimately more beneficial--endeavor. Mixing natural history with engaging anecdotes, Leland cuts through problematic myths coloring our grasp of the natural world and suggests that how these alien species have reshaped our landscape is now as much a part of our shared heritage as tales of our presidents and politics. Simultaneously he poses questions about which of our accepted icons are truly American (not apple pie or Kentucky bluegrass; not Idaho potatoes or Boston ivy). Leland's ode to survival reveals how plant and animal immigrants have made the country as much an environmental melting pot as its famed melding of human cultures, and he invites us to reconsider what it means to be American.
About the Author
---
John Leland is the author of Learning the Valley: Excursions into the Shenandoah Valley and Porcher's Creek: Lives between the Tides, second-place winner in the 2003 Phillip D. Reed Memorial Award of the Southern Environmental Law Center. Leland is a professor of English at the Virginia Military Institute in Lexington.