Maya Roads: One Woman's Journey Among the People of the Rainforest (Paperback)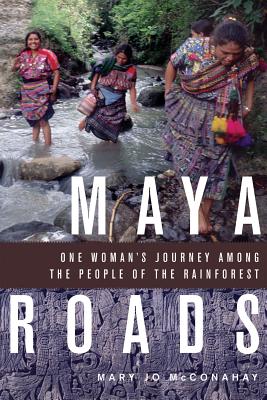 for information about purchasing this book, please contact orders@bookpassage.com
Description
---
Northern California Book Award Recipient 

In Maya Roads, McConahay draws upon her three decades of traveling and living in Central America's remote landscapes to create a fascinating chronicle of the people, politics, archaeology, and species of the Central American rainforest, the cradle of Maya civilization. Captivated by the magnificence and mystery of the jungle, the author brings to life the intense beauty, the fantastic locales, the ancient ruins, and the horrific violence. She witnesses archaeological discoveries, the transformation of the Lacandon people, the Zapatista indigenous uprising in Mexico, increased drug trafficking, and assists in the uncovering of a war crime. Over the decades, McConahay has witnessed great changes in the region, and this is a unique tale of a woman's adventure and the adaptation and resolve of a people.
About the Author
---
Journalist Mary Jo McConahay began covering Central America as a war correspondent in the 1980s and lived in Guatemala for eleven years. Her work has appeared in Vogue, Rolling Stone, the San Francisco Chronicle, and Time and is included in several anthologies.
Praise For…
---
"Every once in a while I stumble upon a book that is so beautifully written and infused with so much intelligence and heart that it leaves an indelible mark on me. Mary Jo McConahay's
Maya Roads
is such a book. In its hungry passion and wide-eyed wonder, it's an extraordinary literary journey and a moving testament to a region and a life." —Don George,
National Geographic Traveler,
August 2011 Book of the Month
"A layered examination of a place and a people whose ancient culture is rapidly disappearing." —
Kirkus
"From the moment Mary Jo McConahay steps into the deep Mexican jungle, you will follow her anywhere. In this extraordinary travel memoir, McConahay journeys through beauty, history, disappearing cultures, and revolution. . . . Her courage, keen observation, and open heart make her an unparalleled guide to this gorgeous, mysterious, sacred, and sometimes terrifying corner of the planet."  —
Laura Fraser
, author,
An Italian Affair
and
All Over the Map
"Powerful, descriptive, spiritual and lush."  —
June Carolyn Erlick
, editor in chief,
Re:Vista: Harvard Review of Latin America
, and author,
A Gringa in Bogotá: Living Colombia's Invisible War

"I can't imagine a better book to help us understand the power of the rainforest and of the Mayan cities, the way violence and majesty permeate both. . . . All that [McConahay has] seen in thirty years of covering death informs the deliciously melancholy view of life that infuses the book. This is a superb book—thoughtful and reflective." —Jim Handy, author,
Gift of the Devil: A History of Guatemala
and
Revolution in the Countryside: Rural Conflict and Agrarian Reform in Guatemala
"What you hold in your hands is a gift of rare courage and insight. McConahay rips off the layers of a little-known world, exposing to us its hypnotic beauty--and violence--through her own experience. The author's familiarity with the region and its people enables her to do what no one else before has done, setting incidents of the current crisis against centuries-old wisdom." —
Jean Molesky-Poz, author of Contemporary Maya Spirituality



"Brilliant. Maya Roads takes the reader on an intense journey deep into tropical forest landscapes, described so eloquently one can feel the sweaty climate, see the birds wrapped in the indigenous women's braids, and experience the stress as witnesses and survivors recount stories of repression and resistance. [It] combines the prose of a skilled journalist with the in-depth knowledge of a long time observer of the Maya peoples." —Amy Ross, associate professor, Department of Geography, University of Georgia



"Mary Jo McConahay guides the reader of Maya Roads from enchanted jungles at the center of the Americas all the way to military roadblocks and nightmare massacres. Her own progress—from wide-eyed newcomer, wary of spiders and snakes, to world-experienced journalist familiar with the unblinking look of death--makes her the best sort of guide. She is innocence and experience; discoverer and knowing witness. The Maya believe we are nearing an end time; I cannot imagine a better chronicler of this time and place than McConahay." —Richard Rodriguez, PBS NewsHour, and author, Hunger of Memory: The Education of Richard Rodriguez and Brown: The Last Discovery of America